Kennedy Gondwe/BBC Sport | Published on April 11, 2012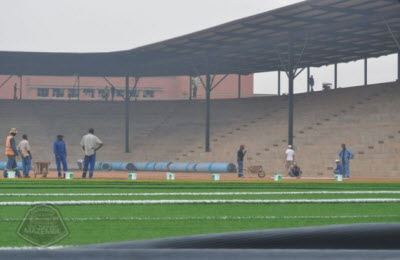 TP Mazembe's new stadium under construction |
Enlarge
Zambian champions Power Dynamos might still be wondering what hit them when they were massacred 6-0 by Congolese giants TP Mazembe in last Sunday's African Champions League tie.
While Power crashed out on a 7-1 goal aggregate in Lubumbashi, to the neutrals, the result was also testimony of how seriously Mazembe are taking this year's competition.
The four-time African club champions last year missed out on the competition after the Confederation of African Football (Caf) suspended them from the tournament for allegedly fielding an ineligible player.
Their exclusion from the competition was preceded by the banning of two players - Tresor Mputu Mabi and Guy Lusadisu - after they were were singled out as having played key roles in a brawl which led to the referee calling off a regional club championship game in May 2010.
But now, both club and player suspensions are over, and Mazembe are back.
"You can't judge a team after one game but after seven or eight games," Moise Katumbi, the club's president told BBC Sport after the win against Power.
"Our aim is to prepare our team just like other people are doing with their teams.
"I hope the players are going to continue playing the way they are because now they understand one another very well.
"Everyone is doing a good job to ensure that Mazembe come back in the competition."
Though Mazembe have lost three of their regular players - Bedi Mbeza and Patou Kabangu to Anderlecht, Belgium, with Alain Kaliyutika joining Al-Ahli in Qatar - Katumbi has also been busy in the transfer market.
He has bought at least five players, including midfielder Nathan Sinkala, who won the Africa Cup of Nations title with Zambia in February.
Katumbi, who is also governor of the mineral-rich Katanga province and one of Africa's wealthiest businessmen, is also constructing a new stadium for Mazembe, in addition to buying two aeroplanes for the side.
One of the planes will be used to fly around DR Congo for domestic fixtures, while the other will service international routes.
"Mazembe is a team that is growing and the infrastructure has to follow also," Katumbi said.
"I hope to open the stadium in June. We are just on the finishing side at the moment.
"We bought the planes because chartering became very expensive for us."
Yet he knows that his multi-million dollar investments will amount to nothing if the team does not repay his hard work.
Katumbi says Mazembe are now focussing on their third round tie against Sudanese side Al Merreikh at the end of this month.
He also admits Sudanese teams are "very good and strong".
"We have to prepare adequately because there's no small team in the competition. The coaches are doing their part so the rest remains with the players to show us how far we can go," he adds.
"Let's play and avoid quarrelling. We need the strong teams to win."
Katumbi is aware that all Congolese eyes are now on Mazembe to represent the country, after all other local sides were eliminated from this year's continental games.
"For us, it's also about the honour of defending the pride of our country. With the help of our government and supporters, we will do our best not to run away from our responsibility."