Radio Okapi | Published on November 16, 2018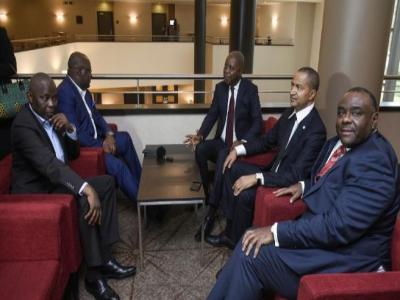 Opposition leaders Vital Kamerhe, Felix Tshisekdi, Adolphe Muzito, Moise Katumbi and Jean-Pierre Bemba (File Photo) |
Enlarge
Five out of the seven opposition leaders who named Martin Fayulu as the joint opposition presidential candidate on Sunday renewed their support for Mr. Fayulu on Thursday.
On Monday, Felix Tshisekedi and Vital Kamerhe withdrew their names from the accord that was signed in Geneva.
Jean-Pierre Bemba, Moise Katumbi, Adolphe Muzito, Martin Fayulu, and a representative for Mbussa Nyamuisi called on the two dissenting opposition leaders to come to their senses.
In a statement signed in Brussels, they said that the Lamuka political agreement was signed freely and unconditionally by the seven opposition leaders on November 11, 2018 in Geneva.
The agreement, which designates Martin Fayulu as the opposition's common candidate, was followed the next day by the defections of Vital Kamerhe of the UNC and Felix Tshisekedi of the UDPS, whom the other five opposition leaders call upon to change their decision.
They said that they believe that the two dissenting opposition leaders must comply with the will of the Congolese people, who demand the unity of the opposition.
Finally, the five opposition leaders said that Martin Fayulu is a real soldier of the people whose curriculum, experience and commitment are proven.