VOA News | Published on November 12, 2014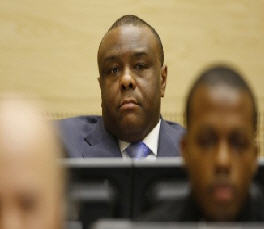 The four-year-long trial of former Congolese Vice-President Jean-Pierre Bemba is finally wrapping up in The Hague. But the story is not over. ICC judges want another trial, this time targeting both Bemba and his legal team for allegedly tampering with justice.
Closing statements continue through Thursday in the trial of 52-year-old Jean-Pierre Bemba. A former vice-president and warlord from the Democratic Republic of Congo, he faces five counts of war crimes and crimes against humanity for atrocities committed by his private MLC army in the neighboring Central African Republic.
The alleged acts took place between October 2002 and March 2003. They include murder, rape and pillaging as Bemba's rebels helped to put down a coup against the C.A.R.'s former president Ange-Felix Patasse.
The prosecution, which took the floor first, described some of the alleged atrocities.
"MLC troops committed widespread rapes with complete impunity during the conflict and they did so in areas under their control. MLC raped victims in front of their family members. They sometimes forced one family member to rape another. Sons were sometimes forced to rape their mothers in front of their fathers. MLC troops raped wives in front of their husbands. They raped children in front of their parents. This was how Jean-Pierre Bemba's MLC troops carried their rape campaign in the Central African Republic," said a prosecutor.
Bemba has pleaded not guilty to the charges. His lawyers argue his fighters were no longer under his command once they crossed into C.A.R. A verdict is not expected until next year.
Regardless of the judgement, his days at the ICC are not over. On Tuesday, the court ordered both Bemba and members of his legal team to stand trial on allegations they bribed and influenced witnesses to give false evidence. No date has been set for the proceedings.