Radio Okapi | Published on August 04, 2018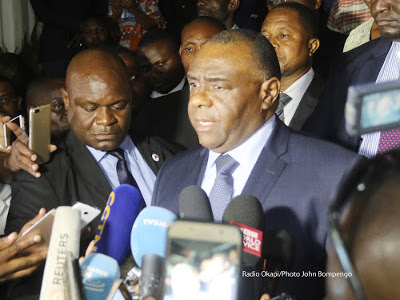 Jean-Pierre Bemba during a press conference in Kinshasa on 8.3.2018 |
Enlarge
Reacting to the news that Moise Katumbi has been refused entry at the DR Congo and Zambia border crossing in Kasumbalesa, Jean-Pierre Bemba called on Friday on Congolese authorities to de-escalate the situation. The elections must be inclusive, and, at this stage, the unity and cohesion of the country must be strengthened, Jean-Pierre Bemba said during a press conference in Kinshasa.
The MLC leader called on the authorities to promote inclusive elections:
"Moise Katumbi is a major political player in this country. He has supporters. I think it is not good to exclude opponents, political actors; especially when the primary sovereign is the only one who can decide who should be his leader. I appeal to the authorities of the country to de-escalate the situation and ensure that the upcoming elections are inclusive."
Jean-Pierre Bemba said that a solution must be found for Moise Katumbi to return to the country to participate freely in the elections.
Moise Katumbi and his delegation are stranded in Zambia. The opposition leader had arrived at the border between Zambia and the DRC this Friday, August 3 at 1pm local time.
Sources in Kasumbalesa indicate that the former governor of Katanga was stranded for a long time in the neutral zone, surrounded by thousands of his supporters.
On the Congolese side, there was no service at the border post, which was closed. Meanwhile, in Kasumbalesa, the police dispersed protesters with tear gas.