Radio Okapi | Published on August 03, 2018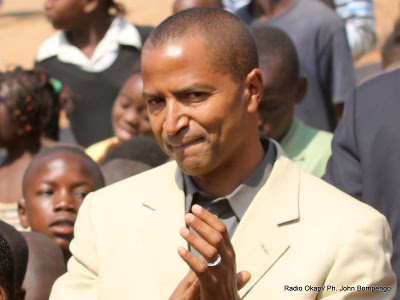 Moise Katumbi in Lubumbashi on 6.29.2011 |
Enlarge
Moise Katumbi and his delegation are stranded in Zambia, as the Congolese opposition leader attempts to return to DR Congo to run in the upcoming presidential election. The former governor of Katanga Province had arrived at the border crossing between Zambia and DR Congo this Friday, August 3 at 1pm local time.
Sources in Kasumbalesa indicate that Moise Katumbi was stranded for a long time in the neutral zone, surrounded by thousands of his supporters. On the Congolese side, there was no service at the border post, which was closed. Meanwhile, in Kasumbalesa, the police dispersed protesters with tear gas.
Several roadblocks were erected at various locations on the Lubumbashi-Kasumbalesa road to prevent Moïse Katumbi's supporters from reaching the Kasumbalesa border crossing, 90 kilometers from Lubumbashi.
By noon, all the attention of the population of Lubumbashi was turned towards Kasumbalesa, which was the second possibility for Moise Katumbi to return to DR Congo, after his plane was prevented from landing at the Luano airport.
Soon, the city of Kasumbalesa was heavily militarized, according to sources joined by Radio Okapi. A long line of military trucks was visible at the border between Zambia and the DRC.
When Moise Katumbi arrived at the Zambian customs office, several Congolese supporters crossed into Zambia to greet him.
In the process, the delegation of the Platform for Change, which made the trip from Lubumbashi to Kasumbalesa, was blocked at the post of Kisanga. Some of the supporters who forced the passage to the customs post of Zambia were questioned by the Zambian police, the sources said.
Katumbi Chapwe was stuck in the neutral zone after red tape. Meanwhile, on the side of the DRC, there are crackling bullets, the police trying by all means to disperse protesters waiting.
People joined in Kasumbalesa by Radio Okapi were wondering why the Congolese government is preventing Moïse Katumbi from returning to the country, even though there is an arrest warrant issued against him by a court in Lubumbashi.