Radio Okapi | Published on August 25, 2018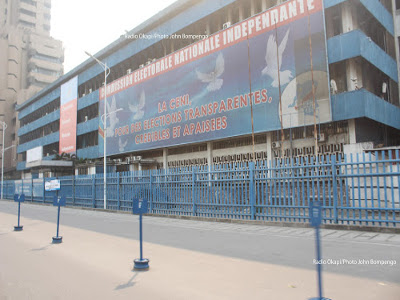 INEC's building in Kinshasa |
Enlarge
The candidacy of Jean-Pierre Bemba for the presidential election scheduled to be held on December 23 has been rejected by the Independent National Electoral Commission (INEC), according to the list of accepted candidacies it published just after midnight on Saturday in Kinshasa.
The candidacy of the MLC president was not accepted because he had been sentenced to one year in prison and a payment of 30,000 euros in fines by the International Criminal Court for bribing witnesses, said Jean-Pierre Kalamba, a spokesperson for the INEC who announced the decisions of the electoral commission.
The candidacies of Samy Badibanga, a former DR Congo prime minister, and Marie-Jose Ikofu were declared inadmissible because they were deemed to not have Congolese citizenship.
The candidacy of Antoine Gizenga of the PALU political party was declared inadmissible because his candidacy was deemed to have not been properly filed. The candidacy of suspended PALU leader and former Congolese prime minister Adolphe Muzitu has also been declared inadmissible. The candidacy of Jean-Paul Moka has been declared inadmissible for non-payment of application fees.
In all, the reasons for inadmissibility declared by the INEC for six candidates for the presidential election at this stage are: lack of nationality, non-payment of application fees, conflict with their own party, irregularity with the application, conviction by a court.
The candidacies that were accepted are from:
Seth Kikuni (Independent)
Kazadi Ngumbe Ngumbe (FPJ)
Theodore Ngoy Ilunga wa Nsenga
Joseph Maluta (Independent)
Noel Tshiani (Independent)
Amine Mabaya Gizi (ACC)
Kin-kiey Mulumba (Independent)
Freddy Matungulu Mbuyamu (SYENCO)
Felix Tshisekedi Tshilombo (UDPS/Tshisekedi)
Alain Daniel Shekombe (Independent)
Radjabo Sokorabo
Vital Kamerhe Lwa kanyinginyi (UNC)
Fayulu Madidi (Dynamics of the Opposition)
Yves Mpunga Mbomba (FP)
Gabriel Mokia (MDCO)
Sylvain Masheke (Independent)
Emmnauel Ramazani Shadary (Independent)
Charles Luntadila Diavena
Francis Mvemba (Independent)
Those whose applications have been rejected have 48 hours to appeal the decision of the INEC to the Constitutional Court.