UN News Center | Published on March 28, 2014
Enlarge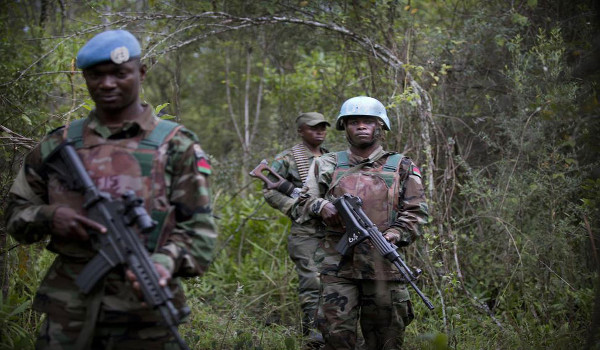 Elements of the Malawi contingent of the Intervention Brigade on a joint patrol with Government forces in the Democratic Republic of the Congo (DRC). UN Photo/Sylvain Liechti |
Enlarge
The Security Council today extended for one year the United Nations Organization Stabilization Mission in the Democratic Republic of the Congo (MONUSCO) – along with its Intervention Brigade – noting the need for the Mission to strengthen its support so the Congolese Government can address security challenges in line with the aims of a regional peace and security accord.
Unanimously adopting a wide-ranging resolution, the Council renewed the mandate of both MONUSCO and its Intervention Brigade within the peacekeeping mission's authorized troop ceiling of 19,815 military personnel, 760 military observers and staff officers, 391 police personnel, and 1,050 personnel of formed police units, until 31 March 2015.
The Council decided that future reconfigurations of MONUSCO and its mandate should be determined on the basis of the evolution of the situation on the ground and, in the context of implementation by the Government of DRC and all other signatories of the region-wide 2013 Peace, Security and Cooperation Framework.
Further, the Council said it would also consider progress towards the following objectives, in line with the priorities of protection of civilians, stabilisation and support to the Framework's implementation: reduction of threats posed by Congolese and foreign armed groups, and violence against civilians, including sexual and gender-based violence, "to a level that can be effectively managed by the Congolese justice and security institutions" and stabilization through the establishment of functional, professional, and accountable State institutions.
In light of these objectives, the Council today authorized MONUSCO to take all necessary measures to perform a range of tasks, including, among others: protect civilians; neutralize armed groups through the Intervention Brigade in a "robust, highly mobile and versatile manner and in strict compliance with international law;" monitor implementation of the arms embargo; and provide support to national and international judicial processes in the DRC.
Running throughout the resolution is the Council's deep concern about the humanitarian situation in the DRC and its strong condemnation of all armed groups operating in the region and their violations of international law, and abuses of human rights.
In that regard, the text demands that the Democratic Forces for the Liberation of Rwanda (FDLR), the Allied Democratic Forces (ADF), the Lord's Resistance Army (LRA), the Bakata-Katanga and various Mayi Mayi groups "cease immediately all forms of violence and other destabilizing activities and that their members immediately and permanently disband, lay down their arms and demobilize children from their ranks."