Cafonline.com | Published on November 20, 2014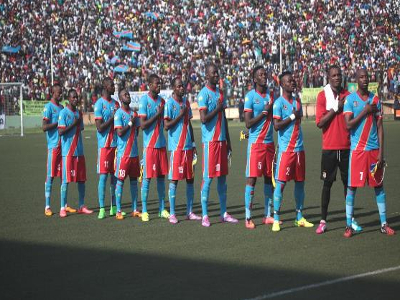 DR Congo Leopards (Photo: Cafonline.com) |
The Leopards of DR Congo claimed the final spot in the qualifiers for the Orange Africa Cup of Nations Equatorial Guinea 2015.
The Congolese went through as the best third place team from all the seven groups. The 1968 and 1974 champions sealed their place after Egypt were beaten 2-1 by North African rivals, Tunisia in the Group G clash in Monastir.
DR Congo, who had earlier beaten Sierra Leone 3-1 in Kinshasa, finished on nine points, the highest points attained by any of the third-place teams from the seven groups.
Seven-time winners Egypt failed to qualify for the final tournament for the third successive time after Tunisia came from behind to win. The Pharaohs led at half time through Chelsea forward Mohamed Salah opener before second half strikes from Yassine Chikaoui on 52 minutes and Whabi Khazri nine minutes from time.
In the other Group E match in Dakar, Senegal thumped Botswana 3-0 to end their campaign in grand style.
The qualified teams are Equatorial Guinea (hosts), Algeria, Burkina Faso, Cape Verde, Cameroon, Congo, Cote d'Ivoire, DR Congo, Gabon, Ghana, Guinea, Mali, Senegal, South Africa, Tunisia and Zambia.