Cafonline.com | Published on January 30, 2016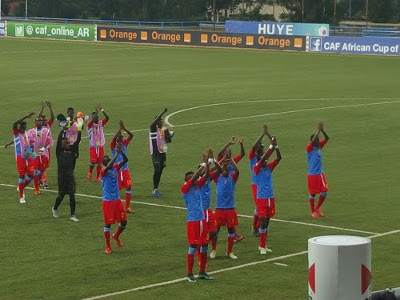 DR Congo Leopards celebrate after a 3-0 win against Ethiopia on 1.17.2016 |
Enlarge
DR Congo cut short the campaign of host Rwanda beating them 2-1 in their quarter-final clash on Saturday in Kigali.
Central defender Padou Bompunga headed home the winner in extra time as the Congolese eased into the last four for the first time since 2009, ending the hopes of Amavubi, who gave their all yet not enough.
The 2009 champions started on a high note making the intimidating presence of the huge home crowd count for little. And it did not take long for them to break the deadlock against the run of play after 11 minutes.
Doxa Gikanji unleashed a powerful shot at the edge of the penalty area that left Rwanda goalie Eric Ndayishimiye with no option for the opener.
The Congolese dominated and Jonathan Bolingi was unlucky to double the lead when his shot on 20 minutes hit the post with Ndayishimiye again completely beaten.
It was the Leopards all the way until the 37th minute when Rwanda had their best chance at goal. Innocent Habyarimana after profiting from a poor clearance from the Congolese rear shot at goal but DR Congo goalie Ley Matampi responded with a superb save.
The Congolese led by a lone goal at half time but it was the introduction of Dominique Savio for Habyarimana early in the second half that marked the turning point of the game.
Cheered on by the expectant crowd, the Amavubi suddenly found their stripes and it was only a matter of time that the equalizer would come. It did come on 56 minutes through Ernest Sugira from a Jean Claude Iranzi assist shooting past Matampi.
The 30,000-capacity stadium erupted into ecstasy following the equalizer and the Amavubi continued to dictate the pace.
On 71 minutes, Sugira missed the opportunity to put the host into the lead with a lob over Matampi that missed target.
The game headed for extra time after both teams failed to find the winner within normal time, and it was the Congolese who had the last laugh.
Towering defender Padou Bompunga settled matters with a header from a cross from the right to end the campaign of the hosts.
DR Congo will face the winner of Zambia – Guinea at the semis.