Cafonline.com | Published on January 22, 2015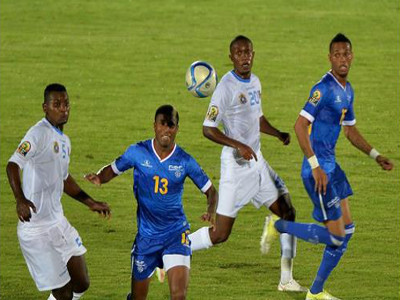 DR Congo play against Cape Verde on 1.22.2015 |
Cape Verde and DR Congo settled for a 1-1 draw in their Group B match on Thursday at the Estadio de Ebebiyin.
It was the second draw by both teams and leaves them with two points, two adrift of leaders, Tunisia who beat Zambia 2-1 in the other Group B encounter earlier in the day.
The Congolese were dealt a blow as captain Yousuf Mulumbu was replaced by Nelson Munganga after the former appeared to have pulled a muscle after 20 minutes of play.
A first half of few chances, Yannick Bolasie saw his long drive well dealt with by Cape Verde goalie Josimar Dias just before half time in one of the few chances at goal.
The Cabo Verdeans also had few attempts with Jailton Miranda and Ryan Mendes in the thick of affairs.
DR Congo star player, Bolasie had a quiet game, switching from either flanks his day ended few minutes back from recess as Loteteka Bokila stepped in for him. The Crystal Palace forward was given no breather by his markers who kept an eagle eye on him and whilst his deft touches appeared to have deserted him.
Cape Verde were dangerous on the counter which was spearheaded by Ryan Mendes and Heldon Ramos, who replaed Julio Tavares in the second half.
On 84 minutes, the Leopards survive a rare scare from the Islanders after a corner effected by Heldon Ramos forced veteran Muteba Kidiaba to make a save from a Miranda effort before Joel Kimwaki weathered the storm with a timely clearance.
Few minutes later, Kidiaba put his experience on the table yet again coming off his line to deny Heldon from close range following a swift counter by the Blue Sharks.
Tried as both teams, they couldnot break the deadlock and had to share the points in the close encounter.
Orange Man of the Match Elvis Manuel Macedo (Cape Verde)
Samsung Fair Player of the Match Dieudonne Mbokani (DR Congo)