BBC Sport | Published on March 06, 2012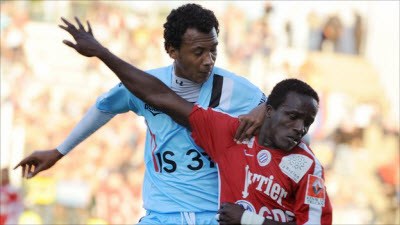 Júlio César dos Santos (left) |
Enlarge
It is not often that you hear of footballers from five-time world champions Brazil coming to Africa in search of fame and glory.
So when TP Mazembe's new recruit Julio Cesar dos Santos says he chose to play on the continent because of a burning desire to win trophies, it is understandable to question his ambition.
But the defender is deadly serious, craving success and convinced he is at the right club in Africa.
"As far as football is concerned, I know that Brazil is a big nation but I also want to experience football in Africa," Dos Santos told BBC Sport.
In January, Dos Santos, 31, joined the four-time African club champions on a one-year contract.
"I am very happy to be here. The people have been friendly and my hotel has a variety of food so I don't miss Brazil that much."
"I like the way the team is managed and the quality of their players."
Dos Santos first fell in love with TP Mazembe in 2010 during their spectacular run in the Fifa Club World Cup.
When the Congolese beat Internacional of Brazil in the semi-finals, they became the first team from Africa to ever reach the final - which they ultimately lost to Inter Milan of Italy.
But the success had not gone unnoticed and Dos Santos says that after he was mesmerized by Mazembe at the Abu Dhabi do, he immediately told his manager to organise a trial with the Katanga province-based club.
And even before the trial could be arranged, Dos Santos was already expecting a positive outcome.
"I knew I would get here one day. Even before the trials could be organised, I went to France just to learn French so that I didn't struggle with communication once I joined the club," Dos Santos disclosed.
"The style of football Mazembe plays and their determination is unbelievable.
"My desire is to win the Club World Cup with Mazembe and I am grateful that my manager has brought me here."
Dos Santos, who played for several Brazilian clubs - Sao Paulo and Vasco Da Gama among them - as well as in France with Tours, knows Mazembe are a highly-demanding team.
But in order for his Club World Cup ambition to be achieved, the side backed by wealthy businessman Moise Katumbi must win the African Champions League for the first time since 2010.
"I have every confidence we can win it," he says ahead of this month's second-round clash with Power Dynamos of Zambia.
"There isn't much difference here to the football we play in Brazil and the talent is unbelievable."
With Dos Santos' ambition clearly spelt out, Mazembe fans will certainly be hoping for some Samba flair in the heart of their defence.
In addition to their 2010 title, Mazembe were also crowned African champions in 1967, 1968 and 2009.