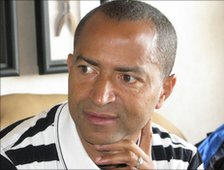 Katumbi is confident of lifting another Champions League trophy
They may have been less than convincing in this year's Champions League but TP Mazembe are still oozing confidence ahead of their latest match on Sunday.
The DR Congo side take on Dynamos of Zimbabwe in Lubumbashi, needing a win to all but secure a semi-final place.
The reigning African champions have won just two of the four matches they have played in Group A but club president Moise Katumbi remains upbeat.
Katumbi told BBC Sport that he still has the utmost faith in his team.
"Our hope is to play and win against Dynamos on Sunday and qualify for the semi-finals, so it's going to be a big game for us," said Katumbi, governor of the DR Congo's mineral-rich Katanga province.
TP Mazembe won last year's Champions League title with victory over Heartland of Nigeria and on the basis of what we saw, deservedly so.
In truth, however, they have struggled to impose themselves in this year's competition and were thrashed 3-0 by Esperance of Tunisia a fortnight ago.
But Katumbi said the Tunis setback is no reason for anyone in Lubumbashi to raise the white flag yet.
He said: "Last year we also lost a game in the group stage but we got to the final.
"Even big teams like Real Madrid and Barcelona sometimes lose matches but they don't lose hope because of one defeat.
The TP Mazembe boss also said his team is under no illusions about the challenge of winning a second consecutive Champions League title but will give it their best shot.
Dynamos will be desperate to avoid more Champions League heartache at the hands of the Congolese outfit, who beat them 2-0 in their opening Group A encounter in Harare.
Moise Katumbi speaks to BBC Fast Track at 16:00 GMT on Friday, 10 September 2010.