Radio Okapi | Published on November 19, 2011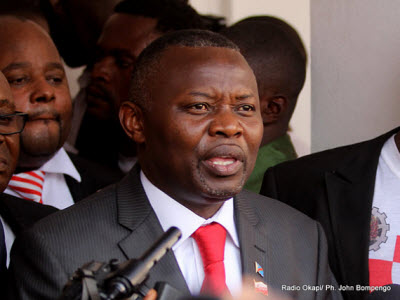 Vital Kamerhe after filing his candidacy on 9.7.2011 |
Enlarge
Campaigning in Bunia, Orientale Province, Vital Kamerhe said on Friday that trying to name one opposition candidate to face President Kabila in the Nov.  28 presidential election "only benefits Joseph Kabila. We are united but we don't want a single candidacy."
Mr. Kamerhe said that it's the strategy of "encirclement" that will benefit the opposition.
"I will make sure he (Kabila) loses in the East. Tshisekedi will make sure he doesn't get any votes in both Kasais (provinces). Tshisekedi and I, Jean-Pierre (Bemba) and Thomas Lubanga, as far away as they are, will give out instructions so that he doesn't get any votes. It's the strategy of encirclement. "
Vital Kamerhe also presented his plan for society, which is primarily based on the restoration of state authority and the social well-being of the Congolese people.

On the web: Congo News Agency | Radio Okapi article