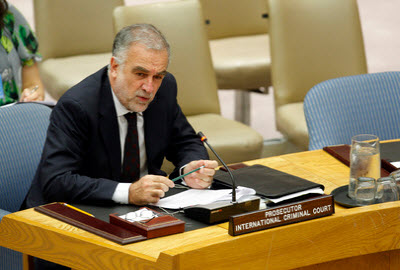 ICC Prosecutor Luis Moreno-Ocampo (UN Photo/Devra Berkowitz)
ICC Prosecutor Luis Moreno-Ocampo is monitoring "with the utmost vigilance" the electoral process in the Democratic Republic of the Congo, where investigations have been ongoing since June 2003.
"The use of violence will not be tolerated," he said. "My Office is gathering and carefully reviewing converging reports of both verbal and physical violence arising out of the electoral campaign for the presidential and parliamentary elections on 28 November."
The Prosecutor called upon all parties involved in the electoral process not to resort to violence, noting that the ICC has jurisdiction to investigate and prosecute the perpetrators of serious crimes committed either in the Democratic Republic of the Congo or by Congolese nationals since 1 July 2002.
"We are keeping watch to ensure that the process does not lead to acts of violence or attacks against the civilian population. We are paying particular attention to reports of inciting hatred, exclusion and physical violence by various political figures in Kinshasa and across the entire country," he said from The Hague. "Electoral violence can result in the commission of crimes falling within our jurisdiction. No one should doubt our resolve to prevent crimes or, if need be, prosecute individuals, as we are doing in Kenya and Côte d'Ivoire."
"As the Congolese Minister of Justice, Mr Luzolo Bambi Lessa, said on Wednesday, my Office is in a position to document any crime within its jurisdiction and, in coordination with domestic courts, will take all necessary action to investigate such crimes."
The Prosecutor reiterated that persons alleged to have committed serious crimes, such as Bosco Ntaganda, for whom the Court has issued an arrest warrant, must be arrested and put on trial.
"The electoral process should not feed a sense of impunity on the part of those responsible for such crimes. On the contrary, it should strengthen the rule of law and the fight against impunity."