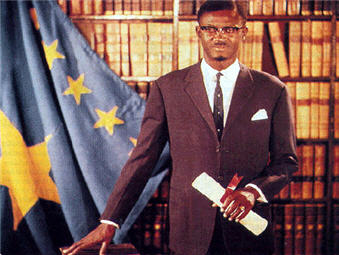 Three members of the family of former Congolese Prime Minister Patrice Emery Lumumba will file a criminal complaint with a civil claim against twelve Belgians who were living in Katanga when Lumumba was killed, the Belga news agency reported on Tuesday, citing one of their Belgian lawyers.
According to Christophe Marchand, a lawyer for Lumumba's family, the complaint will be filed against "twelve people", all Belgians, who were "living at the time" in Katanga, where the hero of Congo's independence from Belgium was killed on Jan. 17, 1961, shortly after his transfer from Leopoldville (now Kinshasa), in circumstances that still remain unclear.
The complaint will be filed for "war crimes" and the "unlawful transfer" of Patrice Lumumba to Elisabethville (now Lubumbashi, the capital of Katanga province), for which there are no statutes of limitations, even 49 years after the events occurred, said Marchand, during a press conference in the presence of one of the sons of the first prime minister of the Congo after its independence from Belgium, Guy Lumumba.
Marchand declined to identify the twelve people "still alive", stressing that the plaintiffs will reserve their identities to the judge. He only said that it was mainly people involved "in politics."
Guy Lumumba, born a few days after his father's death, said his family had hoped, after the fall of former President Mobutu Sese Seko in 1997, that the new authorities would open an investigation into his father's death. But this never happened. "Now, Belgium can do it," he said.
According to Marchand, the judge who will be appointed following the filing of the complaint will determine whether the death of Patrice Lumumba was indeed a "war crime" — and therefore not affected by a statute of limitations. He justified the filing of the complaint in October only by the need to coordinate the work of three teams of lawyers (Belgian, German and American) involved in the case.
The complaint will rely on the findings of a Belgian parliamentary commission of inquiry, which concluded in November 2001 that there was a moral responsibility of "some members of the Belgian government and other Belgians" in the death of Lumumba, considered pro-communist at the time, without mentioning their names.
The Belgian Foreign Minister in 2001, Louis Michel, apologized for Belgium in April of that year to the Congo. But the lawyers for Lumumba's family believe it is now time to go beyond this "collective responsibility."
"There was evidence pointing to individual responsibility," said Marchand.

On the web: Congo News Agency | From Agence Congolaise de Presse (ACP) article