Congo News Agency | Published on December 16, 2011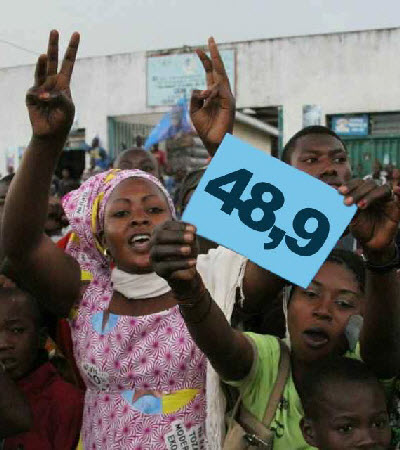 President Joseph Kabila supporters celebrate after the results were announced by the INEC on Dec. 9 |
Enlarge
The Supreme Court has upheld the results of the Nov. 28 presidential election published by the Independent National Electoral Commission last Friday.
The court rejected an appeal filed by Vital Kamerhe. It ruled that the opposition candidate failed to provide evidence to support his claim that the election should be annulled because of irregularities during and after the vote.
The Supreme Court ruled that Joseph Kabila won 48,95% of the votes, Etienne Tshisekedi 32,33%, Vital Kamerhe 7,74%, Leon Kengo wa Dondo 4,95%, Mbusa Nyamwisi 1,72%, Nzanga Mobutu 1,75%, with the remaining 5 candidates garnering less than 1% each.
"Thus, the Supreme Court proclaims Mr. Joseph Kabila Kabange president-elect of the Democratic Republic of Congo, with a simple majority", the First President of the Supreme Court, Jerome Kitoko, said.
The ruling clears the way for President Joseph Kabila to be sworn-in for a second and last five-year term next Tuesday, Dec. 20. It also closes one chapter in the highly contested 2011 presidential election.
As expected, opposition parties rejected the results announced by the Supreme Court, just as they did when the INEC announced the results last week.
Although gloom and doom predictions of violence have so far failed to materialize since the results were published last Friday, the next chapter will depend on how many supporters the opposition can convince to protest against Mr. Kabila's now official reelection.
Only a few hundred opposition supporters have shown up at protests in North Kivu, South Kivu and Katanga provinces since the results were announced last week. 18,911,572 Congolese cast their ballots on Election Day.
Audio
: First President of the Supreme Court Jerome Kitoko announcing the ruling (French)