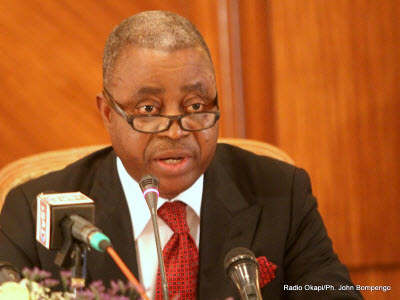 Prime Minister Adolphe Muzito tendered his resignation to President Joseph Kabila on Tuesday. The procedural move will allow President Kabila to form a new government following the Nov. 28 presidential and parliamentary elections, Mr. Muzito told reporters after the meeting.
President Kabila accepted Mr. Muzito's resignation and thanked him for his collaboration during his tenure as the head of government, a statement from the Office of the President said, adding that Deputy Prime Minister Louis Koyagialo will act as the interim prime minister until a new government is formed.
Mr. Muzito said he was grateful to President Kabila for his leadership and support during his tenure, which allowed his government and himself to accomplish the tasks assigned to them "under difficult conditions."
"We went a little further. We obtained the cancellation of DR Congo's debt from $14 billion to $4 billion," Mr. Muzito said, arguing that the debt reduction was due to the compliance of his government to its commitments to multilateral partners. "Now, we can mobilize these resources to finance the country's development."
Referring to former president Mobutu's regime, which ruled the country for 40 years, he said that it had destroyed the country by lowering its wealth and dividing it by two.
 
"Since 2000, the new government has increased the country's wealth from $5 billion to $22 billion. Those are statistics from international financial institutions. So, we more or less increased the wealth of the country by four in ten years. We believe we can, as the Presidential Majority and under the leadership of President Joseph Kabila, increase it from 4.5 billion in 2000 to $ 40 billion in 2016," he argued.
However, he acknowledged that for the Congolese people to feel the effects of these accomplishments, it will take time to restore the economy and social infrastructures such as hospitals and schools.

On the web: Congo News Agency | ACP article