UN News Centre | Published on October 10, 2011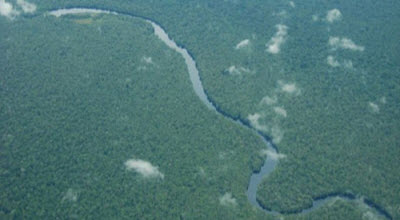 The Democractic Republic of Congo has half of Africa's forests and water resources
The Democratic Republic of the Congo (DRC) has the capacity to become the driving force of Africa's economic development if its vast forests, water resources and trillions of dollars worth of mineral reserves are used prudently, according to the findings of a United Nations assessment released today.
The DRC has half of Africa's forests and water resources, but faces alarming rates of deforestation, species depletion, heavy metal pollution and land degradation from mining, according to the study entitled 'Post-Conflict Environmental Assessment of the DRC' and jointly carried out by the UN Environment Programme (UNEP) and the Government.
The country also faces an acute drinking water crisis which has left an estimated 51 million Congolese without access to potable water, the two-year assessment today in Kinshasa, by UNEP's Executive Director, Achim Steiner, and DRC's Environment Minister, José Endundo, shows.
Prepared by the Ministry of Environment, Nature Conservation and Tourism and UNEP, the study highlights successful initiatives and identifies strategic opportunities to restore livelihoods, promote good governance and support the sustainability of the DRC's post-conflict economic reconstruction and reinforce ongoing peace consolidation.
It also notes that most of the DRC's environmental degradation is reversible and that there has been substantial progress in strengthening environmental governance.
For example, through steps such as regular anti-poaching patrols, the Congolese Wildlife Authority has secured the Virunga National Park, which at the peak of the DRC's crisis was losing the equivalent of 89 hectares of forest each day due to illegal wood harvesting.
However, the country's rapidly growing population, currently estimated at nearly 70 million, most of whom depend on natural resources for their survival, and intense international competition for raw materials are adding to the multiple pressures on the DRC's natural resource base.
Some of the key findings include the fact that DRC has the highest level of biodiversity in Africa, yet 190 species are classified as critically endangered, endangered or vulnerable. Elephants and mountain gorillas are among the species under threat.
Up to 1.7 million tons of bush meat – mainly antelope, duiker, monkey and wild boar – are harvested annually from unregulated hunting and poaching, contributing to species depletion.
The DRC's tropical rainforests extend over 1.55 million squire kilometres and account for more than half of Africa's forest resources – making them a critical global ecosystem "service provider" and a potential source of up to $900 million in annual revenue up to 2030.
The country also has the largest artisanal mining workforce in the world, estimated at about 2 million people, but a lack of controls have led to land degradation and pollution. Its untapped mineral reserves are of global importance and are estimated to be worth $24 trillion.
Around 15 tons of mercury are used annually in the DRC's artisanal gold-mining operations, making it the second largest source of mercury emissions in Africa.
The assessment recommends a transition to a "green economy" with sustainable reconstruction, including capitalizing the country's emerging social economy to generate "green jobs" and other employment, including for former combatants.
It also underlines the need to diversify energy sources as a basis for restarting economic activity. The DRC has a hydropower potential of 100,000 megawatts – or 13 per cent of the world's hydropower potential – which could meet domestic needs and generate export revenue from the sale of electricity.
To overcome the considerable environmental liabilities of a century of mining, the study recommends immediate action to deal with mining pollution in Katanga province in the south by introducing a new, modern mining approach and formalizing the artisanal mining sector to introduce better environmental and occupational health standards.