Radio Okapi | Published on October 28, 2013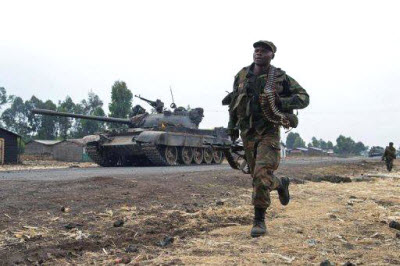 DR Congo's army soldiers on the front lines |
Enlarge
DR Congo's army continued its advance north towards rebel strongholds on Monday. After Kibumba, Kiwanja and Rutshuru, it was the turn of Rumangabo to fall under the control of the Congolese Armed Forces, also known as the FARDC.
All these towns had been occupied by the M23 rebels for more than a year.
Local sources reported that the Congolese soldiers entered Rumangabo around 11 am to the cheers of the residents of the town, which is home to a large military base.
The M23 rebels had left the area before the arrival of the army, the sources said. They retreated towards Runyonyi, near the border with Rwanda.
Moreover, the spokesman of the Congolese army in North Kivu province, Col. Olivier Hamuli, announced that Kibumba is completely under the control of the FARDC, which occupied the town since Saturday.
According to our source, the M23 rebels who were entrenched on the hill Hehu have been dislodged. The hill was the last area being held by the M23 rebels in the Kibumba area.
After the fighting in Kibumba, DR Congo's soldiers advanced towards Rugari, located 10 km northward. The army did not find any resistance in Rugari because the M23 rebels had already fled.
Local residents report that in Rugari, M23 rebels burned two military vehicles before fleeing on the road leading to the Virunga National Park.
The rebels have also abandoned other areas of Rutshuru that they controlled. These include Rubare, Kako, Kalengera, Biruma, Chengerero and Katalé, on the Goma-Kiwanja axis.
Col. Olivier Hamuli says that the FARDC are now advancing towards Chengerero, Bunagana and Runyonyi, "where the bulk of the M23 rebels are holed up."
The fighting between the FARDC and the M23 rebels resumed last Friday. This is the heaviest fighting between the two sides since the end of August.
A Tanzanian peacekeeper of the UN mission in DR Congo, MONUSCO, was killed on Sunday during clashes between the army and the rebels in Kiwanja.
UN Secretary-General Ban Ki-moon said in a statement released on Sunday that he condemned the death of the peacekeeper "in the strongest terms."