VOA News | Published on February 24, 2013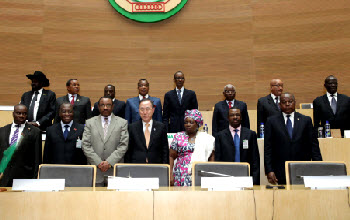 SADC, ICGLR leaders sign DR Congo peace deal in Addis Ababa |
Enlarge
Eleven African countries have signed a peace deal aimed at ending decades of conflict in the Democratic Republic of Congo. The agreement was signed on Sunday at the African Union headquarters in Addis Ababa.
The 11 signing countries are from the Great Lakes region and Southern Africa.
The Peace, Security and Cooperation Framework for the DRC and the Region will likely lead to deploying an intervention brigade in the DRC.
United Nations Secretary-General Ban Ki-Moon says the agreement is composed of two mechanisms:
"First of all, commitment by the president of the Democratic Republic of Congo to implement all what we expect the DRC government and people would do, including security sector reform as well as capacity building and closely working with the leaders of the neighboring countries," said Ban. "And another responsibility is to be ensured by the signing parties of the neighboring countries together with the regional organization."
The agreement also calls on countries in the region to abstain from interfering in the internal affairs of neighboring countries and to structurally reform institutions in the DRC.
The presidents of DRC, South Africa, Rwanda, Tanzania, Congo and South Sudan attended the ceremony and signed the agreement, as did senior representatives from Uganda, Angola, Zambia, Burundi and the Central African Republic. A signing ceremony planned for January was cancelled at the last moment, as more time was needed to bring everyone on board.
Many agreements have been signed in the past, but DRC President Joseph Kabila says he is confident that this peace accord will have more impact as it differs from previous agreements:
"Today it's under the auspicious of not a region but the United Nations, the African Union and the region of the Great Lakes and the SADC region and of course our continental body the African Union. So that in itself is a change as opposed to the agreements that were signed in the past," said Kabila.
Ban Ki-Moon will appoint a U.N. Special Envoy in the coming days to oversee the implementation of the peace agreement.
A U.N. peace-keeping mission of about 17,000 troops is already deployed in the DRC. The intervention brigade will be integrated with this force called MONUSCO, the United Nations Organization Stabilization Mission in the DRC.
The DRC has known armed conflicts for more than two decades, especially in the mineral-rich areas in the east of the country. More violence erupted in April 2012 and M23 rebels captured several cities last November, demanding the government implement a peace deal signed in 2009 that would integrate rebels into the Congolese army.
Leaders of the Great Lake region will meet again in Kampala, Uganda on March 15 to continue discussions with M23 rebels.