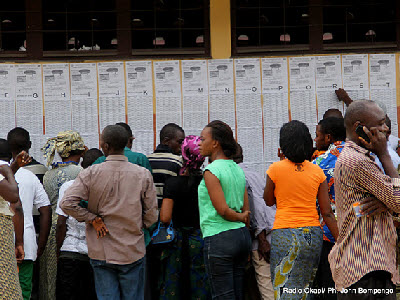 Voters at a polling station in Kinshasa on Monday |
Enlarge
Voting was for the most part peaceful around the country on Monday as most of the 32 million registered voters were able to cast their ballots in peace at the nearly 60,000 polling stations around the country.
There was scattered violence in Katanga and Kasai-Oriental provinces. Three people were killed after gunmen attacked policemen posted at the Nanja School polling station in Lubumbashi. Unhappy voters burned three polling stations in Kasai-Oriental Province.
In the capital Kinshasa, the violence feared after weekend clashes between supporters of the main presidential candidates did not materialize. President Joseph Kabila and his main challenger, Etienne Tshisekedi, voted in Kinshasa.
Voting was peaceful elsewhere around DR Congo. People started lining up as early as 4 am to choose their president and national Members of Parliament. Most polling stations opened as early as 6am.
People were handed a list of the 11 presidential candidates and the more than 18,000 parliamentary candidates, each with a unique number, to pick from as they entered the voting booth.
Observers sent by candidates, and other local and international observers, witnessed the elections. The INEC, which includes members named by opposition parties and the ruling majority, accredited the observers before the elections.
"It's a victory for the INEC, but also for the Congolese people", Jacques Djoli, the vice-President of the Independent National Electoral Commission said about the elections Monday night on RTNC TV.
Amid fears and allegations of fraud before the elections, there were tensions at some polling stations, as voters and observers wanted to make sure that ballot boxes had not already been stuffed with votes.
Voting was allowed to proceed after 5pm on Monday at polling stations that still had people in line to vote.
The INEC has extended voting at polling stations where people were not able to vote because voting material did not arrive on time.
As vote counting goes on elsewhere around the country, observers are present at the polling stations to witness the count and the results being posted at each station.
The elections results will be announced on December 6, the last day of President Kabila's five-year term.