Congo News Agency | Published on May 28, 2012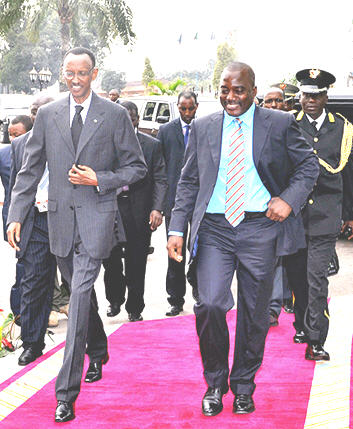 Under improved relations, President Joseph Kabila met with Rwandan President Paul Kagame in Kinshasa in 2010
An internal UN report
obtained by the BBC
says that Rwanda is once again supporting rebels in eastern Congo linked to renegade general Bosco Ntaganda.
The report cites rebel soldiers who say they were trained to join the Rwandan army but were sent instead across the border to eastern Congo to fight alongside mutinous soldiers.
The mutinous soldiers are former CNDP rebels integrated into the Congolese army in 2009 under a peace deal. The CNDP had wreaked havoc for years in eastern Congo before Congolese and Rwandan authorities struck a deal that led to subsequent joint military operations and improved relations.
Bosco Ntaganda replaced warlord Laurent Nkunda as the commander-in-chief of the CNDP after Nkunda was arrested by the Rwandan army in January 2009 during a joint military operation.
The United Nations and Congolese authorities had both accused Rwanda of supporting the CNDP by providing the rebel group with men and arms during their years-long reign of terror in eastern Congo.
A UN report in 2008 provided evidence of the links between the office of Rwandan President Paul Kagame and the CNDP. The evidence of Rwanda's support to the CNDP led some foreign donors to suspend their aid.
Rwandan authorities have long been accused of using the CNDP as a proxy army to fight against the Rwandan rebels of the FDLR, and of trying to maintain military influence in eastern Congo to benefit from the mineral resources in the area. As usual, Rwanda's Foreign Minister Louise Mushikiwabo denied the latest charges to the BBC as "categorical lies".
Both Bosco Ntaganda and Laurent Nkunda are former members of the Rwandan army.
Bosco Ntaganda was indicted by the International Criminal Court in 2006 for using child soldiers as a commander in the FPLC militia led by Thomas Lubanga.
As international pressure mounted on the Congolese government to arrest Bosco Ntaganda after the ICC convicted Thomas Lubanga in March, the former CNDP rebels started defecting from their units to rejoin Bosco Ntaganda. They have renamed their rebel group as the M23 in an attempt to distance themselves from the wanted war criminal and the CNDP.
The Congolese government had previously resisted arresting Ntaganda, claiming his arrest would cause more harm than good. Congolese authorities have now said the renegade general will be arrested for his role in the mutiny. The new unrest has caused thousands of Congolese to flee the fighting.
The Congolese army has deployed reinforcements from other regions, including newly-trained Special Forces, to deal with the mutiny.
Unlike in 2008, when the CNDP rebels came close to taking Goma (the capital of North Kivu province), the Congolese army has routed the mutineers and forced them to retreat into the hills near the Virunga National Park.