The IEC has collected 71 % of the results

Monuc | Published on November 07, 2006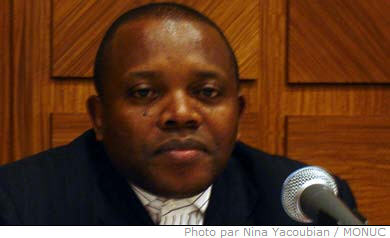 In a press release dated 6 November 2006, the Independent Electoral Commission (IEC) informed that the results from 35,542 out of 50,045 polling and counting stations have been collected, that is 71% of the total.

After controlling the consistency of use and a favorable opinion, the IEC chose 32 local results compilation centers (CLCR) that are allowed to display the results starting Monday 6 November 2006.

Using the partial results displayed by the CLCR, "it is prohibited to make any speculation and/or projection of tendency concerning the second round results of the two candidates", declared the IEC.

While waiting for the provisional results of the presidential election to be compiled, the IEC asked the political actors, the media and the people to "consult the partial results in calm and restraint."

The IEC met on 5 November 2006 a delegation of the "Africa Forum" - a committee in charge of post-conflict reconciliation, composed of about ten members -mainly the four former African heads of the States of Burundi, Ghana, Namibia and Nigeria. The committee promised to support the IEC in promoting the acceptance of the results and indicated that  "it is necessary for the one who wins to find a way to work with the one who loses."

As a reminder, according to the electoral calendar, the publication of the provisional result for the second round by the IEC is due on 19 November 2006. As for the final result, it will be proclaimed by the Supreme Court of Justice on 30 November 2006, at the latest.