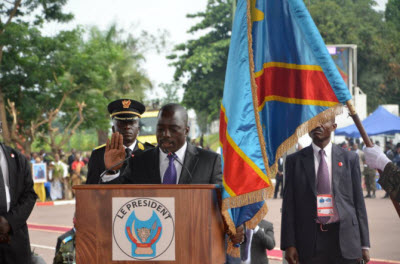 Joseph Kabila takes the oath of office on Dec. 20, 2011 |
Enlarge
President Joseph Kabila was sworn in on Tuesday and pledged to speed up the modernization of the Democratic Republic of Congo in his second five-year term.
"On Nov. 28, you were asked to choose between on one hand promises and inflammatory speeches and on the other hand the prospect of consolidating peace and stability, furthering the reconstruction of the country, and the credibility of the proposed modernization. By renewing your confidence in me, you have opted for the continuity of the great work I've initiated and carried with you. I thank you from the bottom of my heart," Mr. Kabila said in his speech.
On Dec. 9, the Independent National Electoral Commission declared Mr. Kabila the winner of the Nov. 28 presidential election. The Supreme Court upheld the results of the election on Dec. 16.
Mr. Kabila thanked "the Congolese people for the political maturity, order and discipline it has shown since the beginning of the electoral process so far."
The Congolese people want "urgent action with quick positive results" on unemployment, household income, security, justice and other basic needs, Mr. Kabila said, "I have head the message loud and clear". In response, he said he was proposing a "revolution of modernity" that will focus on improving DR Congo's infrastructure and the social conditions of Congolese citizens.
"As the president of all Congolese, I will remain open. I am convinced that together, determined and motivated, we can meet the challenge of the development of our country. I will work with all compatriots who have the passion of the Congo and who sincerely want to work for its modernization. When serving the country, there are no political camps. Only competence, patriotism and goodwill matter."

Read full speech (pdf file in French)