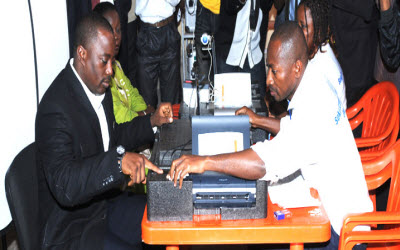 President Joseph Kabila registers to vote on June 7, 2011.
The Congolese government has given an additional $30 million US to the Independent National Electoral Commission, the chairman of INEC, Daniel Ngoy Mulunda, said on Tuesday in Kinshasa.
The amount brings to $110 million US the total the Commission has received so far from the government since it started operating in March 2011, said Pastor Ngoy Mulunda.
The Independent Electoral Commission, replaced by the INEC in March, had estimated last year that it will need $712 million US to organize presidential, parliamentary, and local elections until 2013. The government has said it will fund 60 percent of the amount, with the rest coming from donors.
INEC announced on Sunday that 31 million people have registered to vote in the upcoming elections.
The electoral roll revision that started on May 7 in Kinshasa ended on Sunday, marking the final day of registration nationwide. The register still needs to be rechecked and cleared of irregularities before a final list is published.
Registration of candidates for president and national Members of Parliament will begin on August 4.
Presidential and parliamentary elections will be held on November 28, 2011. Preliminary results of the elections will be published on December 6.