Congo News Agency | Published on July 30, 2010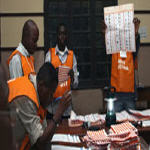 President Joseph Kabila signed into law on Wednesday a bill replacing the Independent Electoral Commission (IEC) with the Independent National Electoral Commission (INEC).
The IEC was created after the 2002 peace accords signed between the government and rebels groups. It has been organizing elections since then, including the 2006 presidential elections and 2005 referendum on the current Constitution. The new Constitution called for the creation of the INEC.
The National Assembly and the Senate passed slightly different bills defining the inner workings of the INEC, respectively in December and February. The bills had to be reconciled before being sent to President Kabila.
Like its predecessor, the INEC is tasked with the organization of the electoral process, including voter registration, maintaining the voter registry, counting of votes, and organization of referendums.
The new commission will have four members from the parliamentary majority and four members from the opposition. Unlike the IEC, there will be no members representing the civil society in the INEC.
The members of the INEC will be chosen by their respective political groups in the National Assembly for a six-year non-renewable term. Once selected, they will no longer be representing their political groups.
The law says that members must be selected from persons who are "independent, recognized for their competence, moral integrity, probity, intellectual honesty, neutrality and impartiality." The selection should also take into account national representation and gender balance.

On the web: Congo News Agency