UNDP | Published on May 05, 2009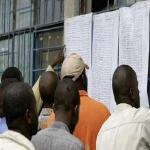 With more than 27 million eligible voters in a country the size of Western Europe that lacks the most basic infrastructure, elections in the Democratic Republic of Congo are no easy task.
Preparations are underway for a large scale voter registration update that begins on June 7. With the support of UNDP and MONUC (the United Nations Organization Mission in the Democratic Republic of Congo), the Independent Electoral Commission (IEC) is conducting a pilot voter registration update, hoping to test the reliability of the equipment, software and registration kits.
The operation was carried out in three different registration centres in the Province of Kinshasa. The registration procedure for voters was also tested to assess the voters' understanding of the process. Thousands of people turned out to the Maluku School in the Kinshasa province to verify that their personal information was up-to-date. More than 600 registered to vote and their data was entered into the election data base.
The Democratic Republic of Congo has been riven by conflict throughout its history. A series of coups during its first years of existence led to the three-decade reign of Mobutu Sese Seko, notorious for its pervasive corruption.
As a result, UNDP and the international community continue to support the IEC and the Congolese government in its efforts to hold transparent and fair local elections. After decades of civil war and violence, the African Nation's first democratic elections were held in 2005 and Joseph Kabila was elected president. Now the IEC hopes that local elections will complete this election cycle.
With the success of this pilot, it is hoped that the upcoming large-scale voter update and the local elections will further help the Democratic Republic of Congo on the road to full recovery.
For more on UNDP's work in the Democratic Republic of Congo, go to http://www.undp.org.cd/.