Monuc | Published on September 04, 2006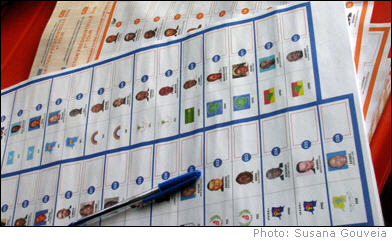 The official results of the first round of the presidential elections will be announced by the Supreme Court of Justice on Tuesday September 5 2006, while the provisional results of the legislative elections will be published by the Independent Electoral Commission on next Thursday September 7.

Initially planned for this Monday September 4 2006, the provisional legislative election results have been delayed until next Thursday, because of the discovery of fraud in favour of an RCD candidate, according to Dieudonné Mirimo, the first reporter of the IEC.

On Monday morning, 10 IEC workers were arrested on suspicion of falsifying documents in favour of the RCD legislative candidate in some Kinshasa districts. This meant that the IEC has to re-examine and reverify the election results in 25 other districts nationally.

A total of 323 deputies out of five hundred seats have already been elected, with the majority representing the three main political parties -the PPRD (President Kabila), the MLC (Vice President Bemba) and the PALU (Antoine Gizenga).

At present there are 84 PPRD deputies elected, with 40 for the MLC and 1 for PALU, representing the parties of the three candidates who obtained the greatest number of votes in the first presidential election round.

There are also around fifty independent candidates who were elected, and about thirty women, which represents just less than 10% of female representation in the new parliament .Mr.Mirimo also indicated that at the end of the day they will already have the provisional results of 141 districts, out of a total of 169 for the whole country.