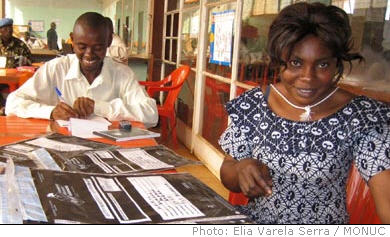 With all the provisional legislative election results due to be announced by the Independent Electoral Commission (IEC) on Sunday September 4 next, IEC spokesman Delion Kimbulungu said today that the compilation and announcement of the provisional legislative results are on schedule.

At present, 82.86% of the provisional legislative results, from 105 districts, have already been completed.

"The operations are going very well, although in Kinshasa progress is a little slower as we have a lot of work to do. We are reinforcing our equipment, and are very determined to have all the provisional legislative results published by September 4," Mr. Kimbulungu said.

He added that there has been some women and independent candidates elected, although he was not in a position to comment fully on this until all the counting and verification process has been completed.

Mr. Kimbulungu went on to say that some results contestations are likely.

"The Supreme Court will make the final decision, as we are only charged with the organisation of the elections. But if the court finds that part or all of the elections need to be repeated, we will respect the court's decision," he explained.
As for the publication of the definite and final results of the presidential elections, the Supreme Court will, according to the law, have seven days to review any contestations from the candidates regarding any aspect of the voting and counting process. The court started working last Tuesday August 29.

If no major discrepancies such as fraud, errors or negligence are found by the court during this period, the provisional results, barring any delays, will be verified as final official results in the next week.
All completed provisional legislative results are available on the IEC website at www.cei-rdc.cd.