ICC | Published on December 02, 2009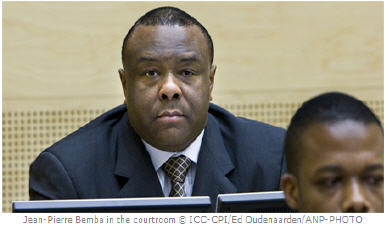 Today, on 2 December 2009, Judge Akua Kuenyehia, Presiding Judge of the Appeals Chamber of the International Criminal Court (ICC), delivered a summary of the judgment reversing the decision of Pre-Trial Chamber II that had granted the request of Jean-Pierre Bemba Gombo for interim release, albeit under conditions.
On 14 August 2009, Pre-Trial Chamber II had found that changed circumstances warranted the modification of its previous ruling on detention. The implementation of its decision had however been deferred pending a determination to which State Jean-Pierre Bemba Gombo will be released and which set of conditions shall be imposed. On 3 September 2009, the Appeals Chamber decided to grant suspensive effect to the appeal of the Prosecutor against this decision.
The Appeals Chamber unanimously decided to uphold both grounds of the appeal. The Appeals Chamber considered that the Pre-Trial Chamber ?misappreciated and disregarded relevant facts? in reaching its conclusion that a substantial change of circumstances warranted the release of Jean-Pierre Bemba Gombo. The Appeals Chamber also considered that the decision granting conditional release should be ?a single unseverable decision? identifying specific conditions. Furthermore, according to the Appeals Chamber, a State willing to accept the person concerned and enforce the conditions must be identified prior to such a decision. The Appeals Chamber highlighted that without this State cooperation the decision to grant conditional release would be ineffective.
A decision to maintain the detention pending trial is reviewed by the competent Chamber at least every 120 days, and may be reviewed at any time at the request of the detained person or the Prosecutor.
Background information:
Jean-Pierre Bemba Gombo, a Congolese national, was transferred to the ICC by the Belgian authorities on 3 July 2008, following a warrant of arrest issued by the Court. On 15 June 2009, Pre-Trial Chamber II confirmed the charges against Jean-Pierre Bemba, determining that there are substantial grounds to believe that he is criminally responsible as a military commander for two counts of crimes against humanity (rape and murder) and three counts of war crimes (rape, murder and pillaging). These crimes were allegedly committed in the context of an armed conflict not of an international character that took place in the Central African Republic (CAR) from 26 October 2002 to 15 March 2003.
Following the confirmation of the charges, the Presidency constituted on 18 September 2009 Trial Chamber III and referred the case of The Prosecutor v. Jean-Pierre Bemba Gombo to it for the conduct of the trial. Trial Chamber III set the date for the commencement of the trial as Tuesday, 27 April, 2010.