Congo News Agency | Published on March 18, 2013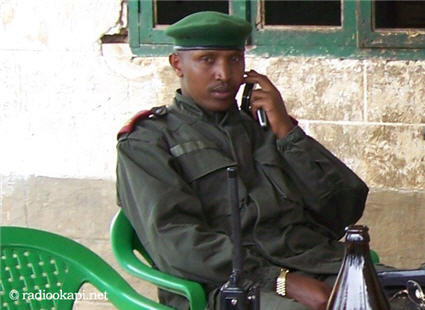 The US said on Monday that warlord
Bosco Ntaganda
has turned himself in at its embassy in Kigali and asked to be transferred to the International Criminal Court, where he is wanted on seven counts of war crimes and three counts of crimes against humanity.
"I can confirm that Bosco Ntaganda, an ICC indictee and leader of one of the M23 factions, walked into the US embassy in Kigali. He specifically asked to be transferred to the ICC in The Hague. We are currently consulting with a number of governments, including the Rwandan government, in order to facilitate his request," Spokesperson Victoria Nuland said during the US State Department daily briefing.
"We strongly support the work that the ICC is doing to investigate the atrocities committed in the Democratic Republic of the Congo, and we are going to continue to work with the ICC in this matter," Mrs. Nuland told reporters.
Ntaganda's fate had become more and more perilous since the M23 rebels split into two rival factions last month, with one faction supporting the infamous warlord nicknamed "The Terminator" and the other led by Sultani Makenga. Ntaganda fled into Rwanda on Saturday after weeks of fighting between the two factions.
The M23 rebels had previously denied that Ntaganda was part of their rebellion.
Rwandan-born Ntaganda became a general in the Congolese army as part of a peace deal signed between the government and CNDP rebels in 2009. He had previously fought in the Rwandan army before joining a militia in northeastern Congo led by Thomas Lubanga.
In April last year, former CNDP rebels integrated into the Congolese army rebelled after the Congolese government came under increased pressure to arrest Ntaganda. The rebels renamed themselves as the "March 23 Movement."
The M23 rebels overtook Goma, the capital of North Kivu province, on Nov. 20 but later withdrew under regional and international pressure. The Congolese government has been holding talks with the rebels in Kampala, Uganda.
UN and rights groups' reports have accused Rwanda and Uganda of supporting the M23. Rwanda has come under pressure from foreign donors, including the US and the UK, to stop its support to the M23 rebels.
US President Barack Obama called Rwandan President Paul Kagame on Dec. 18 to stress "the importance of permanently ending all support to armed groups in the DRC, … and reaching a transparent and credible political agreement that includes an end to impunity for M23 commanders and others" involved in rights abuses.
On Feb. 24, eleven countries from the Great Lakes region and Southern Africa signed a peace agreement aimed at ending more than a decade of conflicts in eastern Congo.