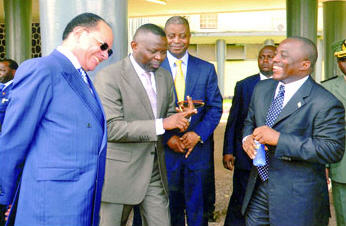 Kengo wa Dondo, Vital Kamerhe, Adolphe Muzito, Joseph Kabila (File Photo)
The main opposition party in the Democratic Republic of Congo (DR Congo) has denied that its supporters were involved in Saturday's attack against the country's Senate president in Paris.
The denial was made on Monday by Serge Mayamba, the Union for Democracy and Social Progress (UDPS) national secretary in charge of relations with political and social forces.
The Senate president, Leon Kengo wa Dondo, was attacked at the Gare du Nord upon arrival from Bruxelles for a private visit to Paris.
Mayamba regretted and condemned this "heinous" act, adding that it should be blamed on the Congolese nationals living in the diaspora and not supporters of the UDPS.
"The Congolese in the diaspora always attack all those who work against their interests. They want change and they have always fought for institutionalization of democracy and constitutionalism in DR Congo," he told a press conference, insisting that the UDPS has always been against violence.
Mayamba also denied the UDPS headed by Etienne Tshisekedi has a military wing.
In reaction, DR Congo's Foreign Minister Alexis Thambwe Mwamba on Sunday summoned French Ambassador to Kinshasa Luc Hallade to protest over this "odious" act.
"This act is very serious and requires a deeper examination and an adequate decision from the French government," he said in a protest note that he gave to the French ambassador.
The French ambassador termed this attack as "cowardly and horrible" before asking the Congolese authorities to inform the French authorities of its officials visiting the country, so that they can be provided with adequate security.