Radio Okapi | Published on February 27, 2012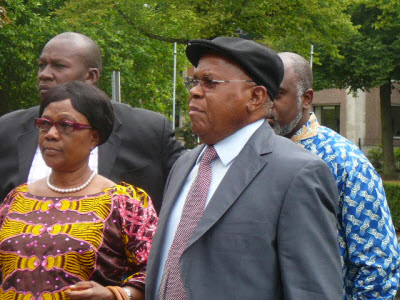 Etienne Tshisekedi and his wife, Marthe. (File photo) |
Enlarge
Etienne Tshisekedi left his home for the first time on Friday since being put under "house arrest", his spokesman Albert Moleka told Radio Okapi. Mr. Tshisekedi and his wife, Marthe, went to the residence of the German Ambassador in Kinshasa, where they were invited to dinner.
"Mr. Tshisekedi is an important political leader in the country, hence the interest and desire of the German Ambassador to meet with him and share on the current situation because of the way the catastrophic Nov. 28 elections were organized," Mr. Moleka said.
The German Ambassador to the Democratic Republic of Congo, Christof-Peter Blomeyer, told the AFP that he has contacts on a regular basis with the government and all other groups (political). "It is within this context that Mr. Tshisekedi was at the residence," he said.
Mr. Moleka told the AFP that Mr. Tshisekedi is not free of his movements and had to negotiate with the police and the authorities before leaving his home.
The UDPS had to contact the police and inform them that Mr. Tshisekedi wanted to honor the invitation because there are police checkpoints on the roads leading to his residence, Mr. Moleka said.

On the web: Congo News Agency | Radio Okapi article