Congo News Agency | Published on December 06, 2011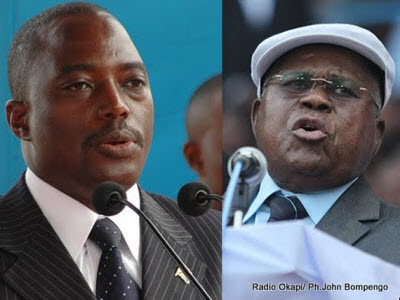 The two leading candidates, Joseph Kabila and Etienne Tshisekedi |
Enlarge
The publication of the full results of the November 28 presidential election in DR Congo has been delayed for 48 hours.
The Independent National Electoral Commission said in a message broadcast on state television Tuesday night that it made the decision to postpone the results for the sake of transparency.
INEC's officials had said earlier in the day that they might not be able to meet Tuesday's deadline because some of the results compiled from the more than 60,000 polling centers around DR Congo were still being collected.
The electoral commission has published partial results showing President Joseph Kabila in the lead with 46 percent of the votes, with more than two-thirds of the counted, followed by Etienne Tshisekedi with 36 percent, Vital Kamerhe with 7 percent and Leon Kengo wa Dondo with 4 percent.
Opposition parties have contested the numbers being released by the INEC. The National Conference of Catholic Bishops urged the INEC on Sunday to ensure that the results reflected the wish of the votes. The president of CENCO, Msgr. Nicolas Djomo, urged all candidates to accept the results.
After meeting with President Kabila and Etienne Tshisekedi on Monday, the head of the United Nations mission in DR Congo said that the two leading presidential candidates had pledged to abide by the results.
Authorities have increased police presence in Kinshasa ahead of the much anticipated announcement. Riot police could be seen in full gear all around the capital amid fears of violence when the results published.
President Kabila's mandate ends at midnight on December 6. However, the Congolese Constitution stipulates that the president remains in office until a new president is sworn in.