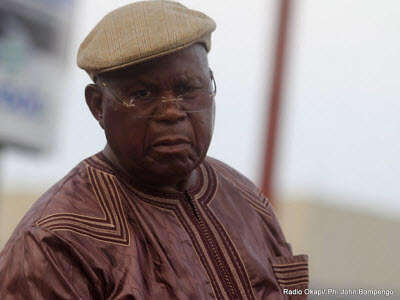 Etienne Tshisekedi, candidate of the UDPS in the Nov. 28 presidential election in DR Congo |
Enlarge
Etienne Tshisekedi rejected the results of the presidential election announced by the Independent National Electoral Commission on Friday, but called on his supporters to remain calm.
In a statement to Radio Okapi, the president of the Union for Democracy and Social Progress called the publication of the results by INEC's chairman Daniel Ngoy Mulunda "an actual provocation of the Congolese people."
Mr. Tshisekedi called on his supporters to "remain calm and serene until he tells them what to do for the interest of the country."
The INEC published the results of the Nov. 28 presidential election in DR Congo on Friday showing President Joseph Kabila won re-election with 49 percent of the votes and Mr. Tshisekedi the runner-up with 32 percent.
"I appeal to the international community, which has continuously urged me to keep the electoral process peaceful, [not] to prevent the Congo, which has already shed too much blood from its sons and daughters, to enter the stage of democracy and the rule of law, for which the people have fought for 30 years," Mr. Tshisekedi said.
"A victory for democracy"
"For the first time since 1960, the people have organized their own elections. That is what real sovereignty means. It's a victory for democracy," Mr. Aubin Minaku, the spokesman for the umbrella group of political parties supporting Mr. Kabila in parliament, said instead in reaction to the publication of the Nov. 28 presidential elections in DR Congo.
"The elections were both transparent and credible," Mr. Minaku said.
"It's a feeling of joy because of the victory of candidate number 3, Joseph Kabila. In all aspects, it's a victory for those who believed in the Nov. 28 elections."

On the web: Congo News Agency | Radio Okapi article