Congo News Agency | Published on January 31, 2012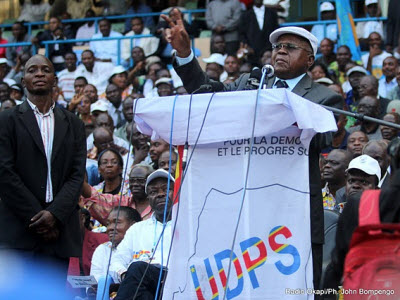 Etienne Tshisekedi rallies supporters at Stade des Martyrs on Aug. 9, 2011
Etienne Tshisekedi's call for a general strike beginning Monday around the Democratic Republic of Congo has largely been ignored.
Mbuji-Mayi, in Kasai Oriental Province, was the only major city in the country to experience major disruptions on Monday as most schools and businesses remained closed.
Business went on as usual in other provinces. Mr. Tshisekedi failed to mobilize supporters even in his strongholds in Kinshasa, Bas-Congo and Kasai Occidental provinces.
Mr. Tshisekedi and his party, the Union for Democracy and Social Progress, have failed to convince supporters to launch mass protests around DR Congo since the electoral commission declared President Joseph Kabila the winner of the Nov. 28 presidential election.
A call made last month for the police and the army to rebel and arrest President Joseph Kabila seems to have fallen on death ears. Mr. Tshisekedi has claimed that he needs more time to convince security forces to join him.
The opposition leader has declared himself the acting president. But for now, he seems unable to rule even in his own neighborhood of Limete, in Kinshasa. Authorities have cornered the area, limiting access to his home. UDPS officials have said that their leader is "under virtual house arrest."