Radio Okapi | Published on November 26, 2011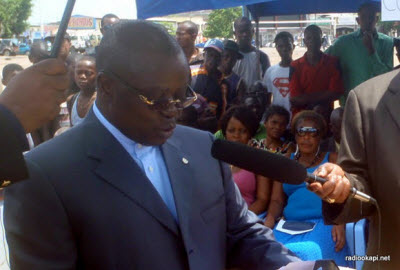 Kinshasa governor André Kimbuta Yango (file photo)|
Enlarge
The Governor of Kinshasa, Andre Kimbuta, canceled all rallies marking the end of the campaign in the capital on Saturday after clashes erupted between supporters of the leading candidates for president.
President Joseph Kabila, Etienne Tshisekedi and Vital Kamerhe had planned to hold their final rallies in Kinshasa on Saturday, before Monday's presidential and parliamentary elections in the Democratic Republic of Congo.
Joseph Kabila was to hold a meeting at Stade des Martyrs, Etienne Tshisekedi at Place du Cinquatenaire and Vital Kamerhe at Stade Tata Raphael.
The spokesman for the provincial government of Kinshasa, Therese Olenga, said the decision was made in consultation with the provincial committee for security, and is intended to "preserve public order and social peace."
Mrs. Olenga said the governor's decision was motivated by the escalation of violence in the city, including on the road leading to Ndjili airport, where all three candidates were due to arrive back in the capital before their rallies.
A Radio Okapi reporter witnessed clashes between supporters of Mr. Kabila and his opponents throwing stones at each other near the Kingasani district, in eastern Kinshasa, on the road leading to Ndjili airport. One person was reported killed and several wounded.
Other skirmishes took place between members of the Unified Lumumbist Party (PALU), supporting Mr. Kabila, and those of the Union for Democracy and Social Progress (UDPS), supporting Mr. Tshisekedi, near the Matete Bridge. Witnesses have reported several people injured and vehicles damaged.
PALU supporters accuse members of the UDPS of attacking their headquarters.
Supporters of the UDPS claim to have been provoked on their way to the airport to welcome their candidate, Etienne Tshisekedi.
Police fired into the air to separate the two camps. There were several arrests.

On the web: Congo News Agency | Radio Okapi article