Congo News Agency | Published on January 12, 2011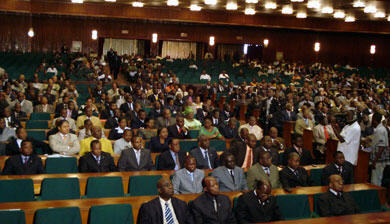 Opposition MPs walked out in protest on Tuesday before a vote on a controversial bill that, if approved, will amend the Constitution to limit presidential elections to just one round of voting and increase presidential powers.
Debate on the bill was suspended for an hour after the walk-out. Apart from being vehemently opposed to the amendments in the bill, opposition MPs also complained that it was being rushed through the National Assembly without allowing enough time for debate.
MPs from the Alliance for the Presidential Majority (AMP), a parliamentary caucus supporting president Joseph Kabila, voted to proceed with the bill. 334 of the 336 MPs present voted yes, with 1 voting no and 1 abstaining. The National Assembly is comprised of 500 MPs.
If the Senate also votes to proceed, the two chambers will have to convene and vote again on the bill. A three-fifths majority will then be required for its passage.
The bill affects 8 provisions of the Constitution. Besides getting rid of the second round of presidential elections, it also gives the president the power to dissolve provincial parliaments and fire provincial governors.
The government only started floating the idea of scrapping the second round of presidential elections last week, claiming the change would save money and prevent a rise in tensions.
Opposition parties countered the move was aimed at weakening their chances of unseating incumbent president Joseph Kabila during the elections set for November this year.
The opposition has been revitalized by the return to the country in December of veteran opposition leader Etienne Tshisekedi, after a three year absence due to health reasons, and the announcement by former National Assembly Speaker Vital Kamerhe that he will run for president against former ally Joseph Kabila.
Kamerhe resigned his seat in parliament as an MP for Bukavu, South Kivu province, before announcing his candidacy in December. He is seen by some analysts as someone who could take some votes away from Kabila in the president's stronghold in eastern Congo. Tshisekedi remains the most likely candidate to threaten Kabila's hold on power.
There was talk of the opposition uniting behind one candidate during the second round, just before the government started floating the idea of limiting presidential elections to one round.