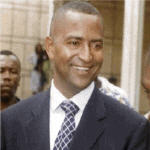 Katanga Province governor Moise katumbi told reporters over the weekend he won't run for presidential elections set to be held in 2011. He attributed rumors of his candidacy to those in the national and international media "looking for sensational stories to sell newspapers."
Moise Katumbi said he has answered this question many times by reaffirming his support for the current Head of State. He added, "If I run for president in 2011, I would be betraying my president and my party, the PPRD."
He put the projects he has undertaken in Katanga Province in the context of achieving President Joseph Kabila's infrastructure plan known as Cinq Chantiers.
He criticized those in the media who seek to divide the PPRD with fancy and baseless stories and called upon all residents of Katanga Province to trust President Joseph Kabila, the "peacemaker and architect of the Cinq Chantiers."
"The PPRD and the Honorable Moise Katumbi Chapwe only have one candidate for President of the Republic in the person of Joseph Kabila Kabange," he said.

On the web: Congo News Agency | From Agence Congolaise de Presse (ACP) article.