ICC | Published on March 08, 2010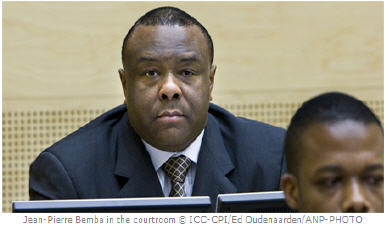 Today, 8 March 2010, Trial Chamber III of the International Criminal Court decided to postpone the commencement date of the trial in the case of The Prosecutor v. Jean-Pierre Bemba Gombo until Monday, 5 July 2010. On 27 April 2010, the date on which the trial was initially scheduled to commence, the Chamber will hold a status conference to discuss the admissibility challenge brought by the Defence for Mr Bemba.
The Chamber noted that its consideration of the Defence application and the observations of the other parties and participants should be undertaken in a sensible and achievable calendar, and that it could not be completed prior to the date on which the trial was originally scheduled to commence. It also considered that it is in the interests of justice to rule on the issue of admissibility prior to the commencement of the trial since the Defence argues that the trial should not be held before the Court anyway.
On 25 February, the Defence submitted a challenge to the admissibility of the case on the grounds of respecting the complementarity between the work of the Court and of the authorities in the Central African Republic, the lack of the requisite level of gravity, and an abuse of process in the case against Mr Bemba.
Today, the Chamber granted the Office of the Prosecutor and the Legal Representatives of the Victims until the 29 March to submit their observations. The Chamber also requested that a summary of the Defence application be notified to the Central African and Congolese authorities which may submit any observations they may have by 19 April 2010. The Defence will also have an opportunity to respond to such observations.
The Chamber will issue its decision after considering the written observations and the oral submissions made at the status conference on 27 April 2010.