Secretary-General strongly condemns attacks on villagers in South Kivu, Democratic Republic of Congo

By UN News | Published on May 30, 2007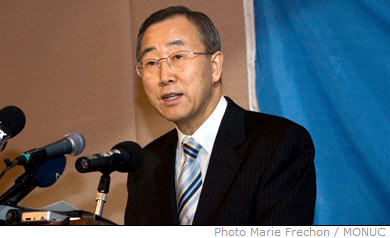 The following statement was issued today by the Spokesperson for UN Secretary-General Ban Ki-moon:
The United Nations Organization Mission in the Democratic Republic of the Congo (MONUC) reports that 19 civilians, including children and women, have died as a result of unprovoked attacks on the villages of Nyabuluze and Mhungu in South Kivu, Democratic Republic of the Congo, during the night of 26-27 May. The attacks were reportedly carried out by elements of the Forces démocratiques de libération du Rwanda (FDLR) and Rasta militiamen. A third attack, on the village of Chihamba, was prevented in the early morning hours of 27 May by the intervention of a MONUC patrol. Media reports that 12 more abductees were also killed remain unconfirmed.
The Secretary-General condemns these attacks in the strongest possible terms. This latest atrocity underscores once again the need to resolve the problem of armed Congolese and foreign militia operating in the territory of the Democratic Republic of the Congo, and for the Government and the international community to work together in creating professional security forces capable of defending the security and human rights of the people of the Democratic Republic. He calls upon the Government of the Democratic Republic of the Congo to bring to justice those responsible for such outrages.
For information media • not an official record