IRIN | Published on August 02, 2011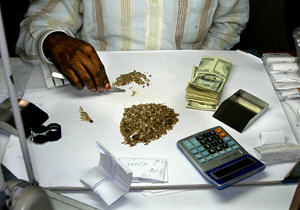 Conflict minerals have frequently been considered one of the leading causes of armed violence in eastern DRC (file photo)
Major industries are seeking to alter the proposed US reporting rules on "conflict minerals" mined in the Democratic Republic of Congo (DRC).
In a bid to stem the flow of money from minerals mined in eastern Congo, widely seen as fuelling the ongoing conflicts, the US government included a clause in the financial reform legislation of July 2010, the Dodd-Frank Wall Street Reform and Consumer Protection Act.
The law requires companies to conduct "due diligence" and disclose annually if they use the minerals cassiterite, columbite-tantalite, gold, wolframite or their derivatives (tin, tanatalum or tungsten) in products that originate from the DRC or adjoining countries. These minerals are essential to many popular items, from mobile phones and laptops to jewellery and jet engines.
In December 2010, the US Securities and Exchange Commission (SEC) released its proposed reporting rules for public companies based on the new legislation. While the final rules are expected in coming months, companies, governments and NGOs have sought to change the requirements.
Conflict minerals have frequently been considered one of the leading causes of armed violence ravaging eastern DRC. According to Refugees International, two million people are internally displaced, unable to return home.
"Armed groups like the FDLR [Forces démocratiques de liberation du Rwanda], the Congolese national army, FARDC, and members of the former CNDP [Congrès national pour la défense du peuple] rebel group, make millions of dollars per year by controlling mine sites and illegally taxing the minerals trade," Annie Dunnebacke from Global Witness told IRIN. "The Dodd Frank conflict minerals law will enable [companies] to avoid fuelling violence through their sourcing practices."
Impact
Some companies argue that the US reporting rules are too far-reaching, too costly and should be phased in over time. The National Association of Manufacturers estimates they will cost US industry US$9-$16 billion to implement.
"The burden on smaller companies… will be disproportionately high and may even lead to companies having to go out of business," says Stephen Jacobs, a senior director at the National Association of Manufacturers, a major US industry group.
David Johansen, a lawyer with the White & Case law firm in New York, is advising his corporate clients on the potential impact. "No one in the United States condones what's happening in the Congo, but the requirements are so expensive compared to the effect it might actually have in the Congo," says Johansen.
Some retailers, such as Wal-Mart and AT&T, have also been trying to persuade the SEC to exempt them, arguing that they have minimal contact with the manufacturing process. "AT&T believes that retailers who merely place their marks on goods or who do no more than order goods with particular features should not be subject to the rules," wrote Theodore Kingsley, general attorney for AT&T, to the SEC.
Several large technology companies, however, have joined with human rights organizations to support the reporting requirements. Hewlett-Packard and Intel have already made significant progress in tracking their supply chain in order to avoid purchasing minerals and metals that could be financing armed groups in the Congo, says Aaron Hall, a policy analyst with the Enough Project, a Washington-based rights group. "These companies show that the costs aren't prohibitive," said Hall.
Intel, the computer components giant, says it has already conducted an on-the-ground assessment of its supply chain in the DRC as well as on-site reviews of 25 smelters in eight countries, including five gold refineries. It says it is difficult to accurately trace the origin of minerals in the DRC because hundreds of thousands of independent artisanal miners make a subsistence living by selling minerals.
"Because there are currently no traceability and certification schemes to track ore from legitimate sources, companies pursuing actions to achieve a conflict-free supply chain may drive down demand for all minerals coming out of central Africa and inadvertently hurt those legitimate miners in the region," says a statement released by Intel this year.
The SEC itself has not specified a set of standards to define what conduct or "due diligence" is expected from companies. Judith A Burns of the SEC told IRIN, "We do not believe that it would be appropriate to prescribe any particular guidance for conducting due diligence because the conduct undertaken by a reasonably prudent person may vary and evolve over time."
Adverse effects

Reports indicate that the new reporting rules will indeed have adverse effects on the lives of Congolese miners and others who depend on the mineral trade for survival, with major job losses in the Kivus since April. "The current slowdown in trade has caused hardship in certain mining areas in eastern Congo, though some diggers have turned to agriculture and other alternative livelihoods," Dunnebacke told IRIN.
However, she added, a recent trip by Global Witness to North Kivu revealed that representatives of artisanal miners and traders, members of the provincial government and local civil society believe the US law "could prove very effective in getting abusive armed groups out of the minerals sector".
Government response
The DRC government welcomed the law, with Information Minister Lambert Mende reportedly calling it a "noble initiative". But the government recently appealed to the SEC to ensure that the reporting rules would not result in a total embargo of minerals from the region. Neighbouring countries, including Burundi and Tanzania, which submitted comments to the SEC, also worry about the effect on their economies.
"The compliance costs of the new rules could be as great for manufacturers sourcing their minerals from a legitimate mine in Tanzania as they would from the DRC, because sourcing any of the conflict minerals from the DRC or the nine adjoining countries automatically triggers the requirement for a report and audit," wrote William M. Ngeleja, Minister for Energy and Minerals of Tanzania. He added that it would be entirely rational for manufacturers to begin sourcing their minerals from other countries and regions.