UN News | Published on June 28, 2011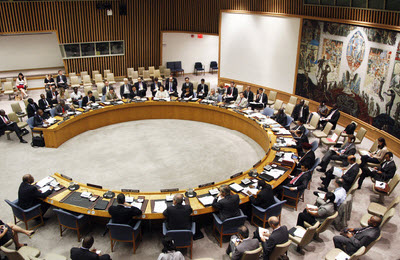 UN Photo/Rick Bajornas
The Security Council today extended the mandate of the United Nations peacekeeping mission in the Democratic Republic of the Congo (DRC) for a year, with the force now scheduled to stay at least until 30 June 2012.
The Council resolution, adopted unanimously, "reaffirms that the protection of civilians must be given priority" by the mission (MONUSCO), which last year succeeded an earlier mission known as MONUC.
The mission has almost 20,000 uniformed personnel, including some 17,000 blue helmet military personnel, more than 1,000 police officers and almost 1,000 international civilian staff.
Earlier this month, Roger Meece, the Secretary-General's Special Representative and head of MONUSCO, told the Council that there have been significant improvements in security in the African country, but many challenges remain before stability can be restored in conflict-affected areas, especially in the north and east.
Today's resolution stresses that any future re-configurations of MONUSCO should be determined by the situation in the ground and on whether the DRC and the mission have achieved certain objectives, such as consolidating State authority across the country and reducing the threat from armed groups in North Kivu, South Kivu and Orientale provinces.
It also calls on the Government and other parties to ensure that elections scheduled for November are free, fair, credible and transparent.
The Council members say the DRC's independent national electoral authorities as well as the country's political parties must quickly adopt and implement codes of conduct and ensure that national and international observers are accredited.
MONUSCO is tasked with providing technical and logistical support, as requested, to Congolese authorities in the staging of the elections.