Congo News Agency | Published on October 18, 2011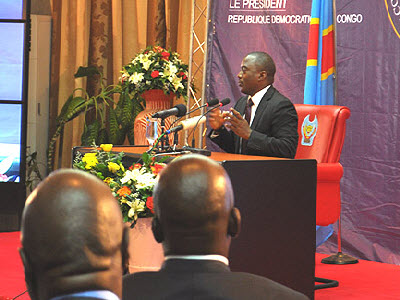 With only 6 weeks left before presidential and parliamentary elections, President Kabila, at a wide-ranging news conference on Tuesday, said that he is confident he will win re-election in November.
"I know one thing for sure, I will not lose," Mr. Kabila replied when asked if he thinks there is a candidate who could beat him.
Using humor to address the failure of opposition parties to name a joint candidate for the one-round presidential election, he said that his opponents were welcome to come to him for help. "They can call me, I'm a good mediator. United or not, the opposition will lose."
Mr. Kabila said that there was no need to doubt that the elections will take place on November 28 because the Independent National Electoral Commission has repeatedly said it will be ready on time.
The president said that there are no ongoing discussions between him and the opposition, or the civil society, on forming a transitional government in case the elections were not held in the period allowed by the Constitution.
He reminded reporters that even in 2006 there were those who said that the Democratic Republic of Congo, after years of wars that resulted in a transitional government, was not ready to hold its first democratic elections in 40 years.
"The Congolese people deserve better, they deserve stability. If the INEC says it will be ready on November 28, then let's go, let's hold the elections. That doesn't mean that we can't have a dialogue on how to hold peaceful elections.", Mr. Kabila said.
Asked if he will run again in 2016, the president said that the Constitution only allows for two terms in office.
Reporters used the nearly three-hour news conference, a rare event for a president who barely talks to the press, to ask questions on a host of issues.
The president said that there are ongoing contacts with the rebel FDLR for its members to disarm and be repatriated to Rwanda and not for their relocation to Maniema Province as some reports have suggested.
Mr. Kabila said that the position of the Congolese government remains that Rwanda should extradite former warlord Laurent Nkunda so he can face justice in DR Congo.
Regarding the case of former CNDP commander Bosco Ntaganda, who is wanted by the International Criminal Court and said to be roaming freely in North Kivu Province, the president said that peace trumpets all other considerations.
President Kabila said that he was surprised that so much was made of his claim that judges make 1,600$ during a speech he gave last month touting his record. Arguing that the focus on the claim was misguided, he said that the government set the judges' salary at 1,600$ in 2010 but there had been problems in the implementation of the decision. He added that judges should earn even more as the country's economy improves.
Mr. Kabila said that some of his critics fail to mention that the country's problems did not start when he came to power in January 2001. He said that a lot has been accomplished since then.
The president said that the government is working on improving the social conditions of the population, the health and education sectors, the business climate, and routing out corruption. He reminded his audience that work on his flagship infrastructure and modernization plan, known as the 5 Chantiers, only began in late 2008.
President Kabila argued that his record should not only be viewed in light of where the country is now but also where it was when he came to power.
"We lost 40 years. We are now trying to catch up,"

On the web: Congo News Agency | Source: presidentrdc.cd