BBC News | Published on January 04, 2012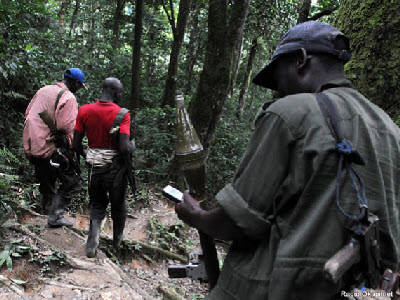 Rwandan FDLR rebels in South Kivu Province in 2009 |
Enlarge
At least 26 people have been killed in attacks by a Rwandan militia group in the eastern Democratic Republic of Congo, the Congolese army says.
It says several remote villages in South Kivu province have been targeted since the start of January.
An army spokesman blamed the Democratic Forces for the Liberation of Rwanda (FDLR) - which has a history of attacking Congolese civilians.
The army is sending reinforcements to the area.
All those killed were civilians, said army spokesman Sylvain Ekenge.
He said bands of rebels had attacked settlements and burned homes in Shabunda territory, a heavily forested area of South Kivu, on 2 and 3 January.
The villagers "said they were attacked because the population had been supporting [another] local militia", Col Ekenge said.
He said military operations were already taking place to try to flush the rebels out.
Kigali attack
The violence is among the worst carried out by the FDLR for months.
The group is one of several armed militias still active in the east of DR Congo, more than eight years after the civil war in the country ended.
FDLR fighters have been blamed for many rapes and killings, despite the presence of UN peacekeepers in the region.
The group was formed by ethnic Hutus who fled from neighbouring Rwanda following the genocide of 1994.
In a separate development, two people have been killed in a grenade attack in the Rwandan capital, Kigali.
Sixteen others were wounded. The security forces have blamed previous similar grenade attacks on the FDLR.