Congo News Agency | Published on November 06, 2013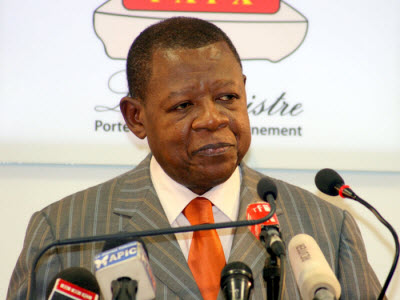 Lambert Mende
The Congolese government says it will not sign a "peace deal" with the M23 rebels now that they have been defeated.
Information Minister and government spokesman Lambert Mende told reporters during a news conference in Kinshasa on Tuesday that there will only be a "statement."
"We did not go [to Kampala] to negotiate and sign an agreement. We were told: come to Kampala, listen to your countrymen and answer them. We listened and our response will be in the statement that we are going to sign," Mr. Mende said.
He added that the Congolese government "never intended to sign a peace deal with anybody" when it agreed to start peace talks with the rebels in Kampala, Uganda.
DR Congo's government agreed to hold talks with the M23 rebels in Kampala last year after they briefly occupied Goma, the North Kivu province's capital city.
After nearly a year of on-and-off discussions, the talks were suspended again two weeks ago after the Congolese government refused to grant a complete amnesty or integrate into the army rebels who had committed war crimes or crimes against humanity.
The fighting then resumed. But by Tuesday morning the Congolese army had regained all territories that had been occupied by the M23 rebels for more than a year.
After losing their strongholds of Kibumba, Kiwanja, Rutshuru, and Bunagana, the rebels fled from their last hideouts on the hills of Chanzu and Runyoni overnight as government troops, backed by UN peacekeepers, were advancing towards their positions.
The political leader of the M23, Bertrand Bisimwa, released a statement saying that the rebel group was "ending its rebellion." But by then the few remaining rebels and the M23 military leader, Sultani Makenga, had either fled to Uganda or Rwanda.
"You all heard the news. The M23 said that it has ended its rebellion. So, there is no need to go and change this fact by recreating an M23 to sign an agreement with," Mr. Mende said on Tuesday.