Congo News Agency | Published on May 06, 2012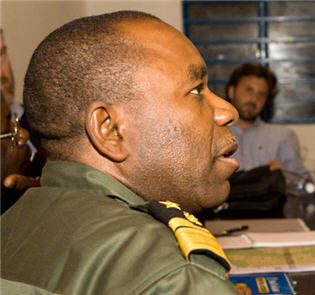 General Didier Etumba
The Congolese army has regained control of the areas of Masisi and Rutshuru, in North Kivu province, which were occupied last week by mutinous soldiers loyal to renegade general Bosco Ntaganda.
DR Congo's Army Chief of Staff, General Didier Etumba, said in a press release on Sunday that military operations against the "undisciplined" soldiers have been suspended and asked the commanders of their units to create favorable conditions for those who want to rejoin the regular army.
"Since the night of May 4 to 5, the FARDC have suspended the operations aimed at neutralizing these undisciplined soldiers," General Etumba said.
"The situation is now under the control of our armed forces in the operational area of Masisi and Rutshuru, where some of these mutinous soldiers had concentrated their attacks on the FARDC," he said.
According to the residents of these areas, the mutinous soldiers are in disarray. The former CNDP rebels were integrated into the army in 2009 under a peace agreement.
General Ntaganda was indicted by the International Criminal Court (ICC) in 2006. He is accused of using child soldiers between 2002 and 2003 as a commander in the FPLC militia led by Thomas Lubanga in the Ituri region, in northeastern DR Congo.
The governor of North Kivu province, Julien Paluku, said on Tuesday that General Ntaganda is now wanted by the Congolese authorities for indiscipline.
General Ntaganda's whereabouts remain unclear, with some reports saying he may have joined forces with the Rwandan rebels of the FDLR based in eastern Congo.