International Criminal Tribunal for Rwanda | Published on May 25, 2011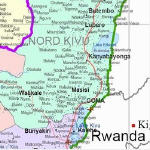 The ICTR Prosecutor, Justice Hassan Bubacar Jallow, announced on 25 May 2011 the arrest in the Democratic Republic of Congo (DRC) of ICTR fugitive Bernard Munyagishari (52), former President of the Interahamwe for Gisenyi, who was arrested in an operation mounted by the DRC Armed forces, in collaboration with the Office of the Prosecutor (OTP) Tracking Unit in Kachanga, North Kivu.
Munyagishari, currently detained in Goma pending transfer to the Tribunal, is wanted by the ICTR on charges of genocide and crimes against humanity, including rape.
The Prosecutor hailed the DRC authorities for their cooperation in executing the warrant of arrest despite the hurdles encountered in tracking down the fugitive in difficult terrain. The accused is alleged to have recruited, trained and lead Interahamwe militiamen in mass killings and rapes of Tutsi women in Gisenyi and beyond, between April and July 1994.
Munyagishari, born in 1959 in Rubavu commune in Gisenyi prefecture was arrested pursuant to an international warrant issued by Judge Alexei Egorov on 8 September 2005. He has featured on the US Rewards for Justice programme as a fugitive from international justice.
Arrangements are being made for the accused to be surrendered by the DRC authorities and transferred to the seat of the Tribunal in Arusha. Nine fugitives are still at large.