At least 17 people have been clubbed or hacked to death by suspected Rwandan rebels in Democratic Republic of Congo's eastern province of South Kivu. Congo's United Nations peacekeeping mission said the violence appears to be a reprisal for recent army operations in the area. Joe Bavier is in the capital, Kinshasa, and has more for VOA.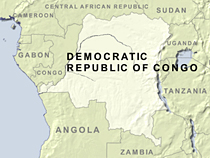 Democratic Republic of Congo

The attacks, the worst in South Kivu in two years, took place late Saturday and early Sunday morning in three villages in Kanyola, an area some 50 kilometers west of the provincial capital Bukavu.

Local civil society coordinator, Constantin Chahrondagwa, told VOA, soon after returning from the scene of the attacks, that villagers had already begun burying the bodies of the 17 people killed in the violence.

All were murdered with machetes, axes, and clubs, he said. Among them were women and children.

Another 23 people were being treated for injuries, some serious, at local medical facilities. Chahrondagwa said 13 people had been kidnapped by the attackers, and there were fears that some of the hostages had been executed.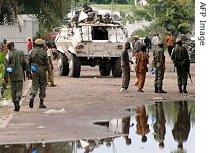 Soldiers and local people gather near a United Nations armoured vehicle in Kinshasa, Nov. 13, 2006

Congo's U.N. peacekeeping mission, known by its French acronym MONUC, said several letters had been left behind by what are believed to be members of the Democratic Forces for the Liberation of Rwanda, or FDLR, a Hutu-dominated Rwandan rebel group based in eastern Congo.

They say the attacks were a reprisal for recent MONUC-supported operations carried out by the Congolese army aimed at chasing the FDLR from the area.

The Congolese army has already deployed extra troops to the area in an attempt to track down the perpetrators of the violence, MONUC said. U.N. peacekeepers were on their way to the scene of the killings Monday morning.

Thousands of FDLR fighters have been operating in eastern Congo since Rwanda's 1994 genocide. Some are former Rwandan soldiers and Hutu Interhamwe militia members responsible for the killings of an estimated 800,000 Tutsis.

Despite the official end of a 1998 to 2003 war, Congo's eastern provinces regularly witness violence at the hands of local militia, foreign rebel groups, and its own armed forces.