IRIN | Published on October 19, 2006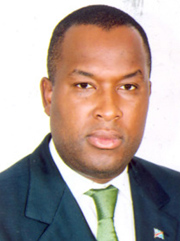 KINSHASA, 18 Oct 2006 (IRIN) - Congolese President Joseph Kabila, who faces Vice-President Jean-Pierre Bemba in a second-round presidential poll, has agreed to include one of the sons of late President Mobutu Sese Seko in his government should he win the 29 October contest.
After signing the agreement on Tuesday in the capital, Kinshasa, François Joseph Zanga Mobutu, who heads the Union des démocrates Mobutistes (UDEMO) political party, said: "UDEMO is calling on Congolese men and women, young and old, to vote massively for President Kabila in the next round of elections."
Kabila secured 44.8 percent of the vote during the first round in July but this was not enough for an outright victory. Bemba, one of four vice-presidents, garnered 20 percent, beating a crowded field of candidates to face off with Kabila in the second round.
According to the Kabila-Mobutu pact, UDEMO would play a major role in government should Kabila become president.
"In addition to its high political consequences, this agreement translates in reality into reconciliation and putting aside individual pride for the overall interest of the nation," Kabila said. "It is also a nationalist gesture of a generation that wants to overcome ideological arguments and to prove wrong those who think that the east and west are irreconcilable."
Most of the votes Kabila won in the first round came from the eastern part of his country, his home area, while Bemba, who hails from Equateur Province, received the majority of his votes from the west. This is the reason for the alliance Kabila has made with Mobutu, who is from the same province as Bemba.
Kabila has also entered into an alliance with Antoine Gizenga, 83, who came third in the first round and heads the Parti Lumumbiste Unifié (PALU), whose stronghold is in Bandundu, another western province.
Mobutu said he was happy to join Kabila's electoral platform, known as l'Alliance de la majorite presidentielle (AMP), which incorporates politicians who have been former rulers. These include the Lumumbists represented by Gizenga; Kabila's group, represented by President Kabila whose father, Laurent-Desire Kabila was assassinated in office in 2001; and the Mobutists.
Mobutu was one of 31 candidates who contested the first round of the presidential polls; he came fourth with 4 percent of the vote.
The Kabila-Mobutu pact comes on the fourth day of the electoral campaign, launched on Saturday for the next 15 days, which has been marred by violence between Kabila and Bemba supporters.